Mike Maske and Devin Vannoy receive Larry Shroyer Award

Send a link to a friend Share
[November 14, 2016] LINCOLN - At the Logan County Board Workshop on Thursday, November 10, 2016, the meeting began with the presentation of the Larry Shroyer Award to two people who have been dedicated to serving the community for many years.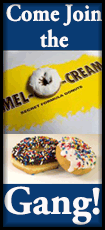 EMA Director Dan Fulscher and Shroyer's nephew Darwin Shroyer presented the award named for Larry Shroyer. Larry Shroyer wrote the county's Emergency Management plan in the 1940s, received the grants for the safety complex, and was always helping others. Each year, the award is presented to someone dedicated to service and safety in the community.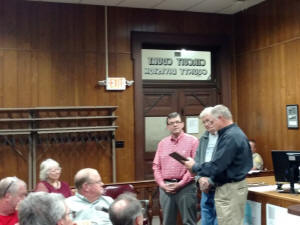 Standing L to R: Mike Maske, Darwin Shroyer, Dan Fulscher

The first award was presented to Mike Maske, who has been working with the Logan County Fairgrounds for over 25 years and has served as secretary of the Logan County Fair Association for 16 years. Fulscher said Maske is there to help with whatever is going on. If the National Guard would be called upon, they would set up at the fairgrounds.

Fulscher said Maske is always working at the fairgrounds. Fulscher said he recently told Maske, "Mike, the fairgrounds is sure lucky to have you." Fulscher said he really appreciates the support of Maske, who never says no to anything Fulscher asks of him.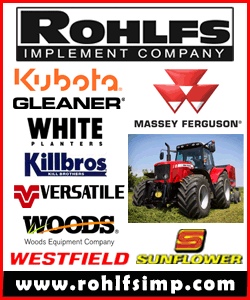 Fulscher read the plaque given to Maske: "In recognition of distinguished service and lifetime dedication to the safety of Logan County and Logan County EMA." Fulscher said the Logan County Fairgrounds are known as the "cleanest and safest."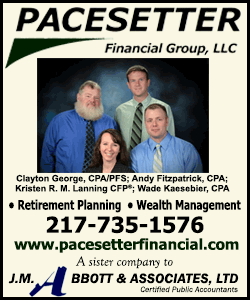 Maske said he did not expect the award and was humbled by receiving it. Maske said he appreciates all the shareholders and all the county board does for the fair.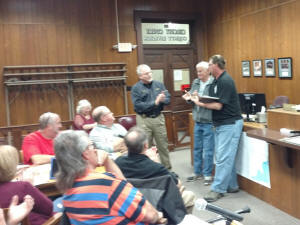 Standing L to R: Fulscher, Shroyer, Devin Vannoy

The second award was presented to Devin Vannoy, who has served as an EMA volunteer for 25 years and has been the volunteer of the year for Logan County five different times.

Fulscher said in the last year, Vannoy helped put a communications team together to assist with setting frequencies for the emergency radios. Vannoy has also helped with specialized trainings and has been there for water searches. Fulscher said Vannoy is there for whatever is needed. In 2004, Vannoy was the Illinois Emergency Services Management Association volunteer coordination manager.

Fulscher read the award given to Vannoy: "In recognition of distinguished service and lifetime dedication to the safety of the citizens of Logan County and Logan County EMA."

Vannoy humbly and quietly received the award.

Board members present at the meeting were Chairman David Hepler, Vice Chairman Bob Farmer, Chuck Ruben, Gene Rohlfs, David Blankenship, Pat O'Neill, Emily Davenport, Kevin Bateman, Miles Craig, Rick Aylesworth, Scott Schaffenacker and Adam Schmidt.

[Angela Reiners]