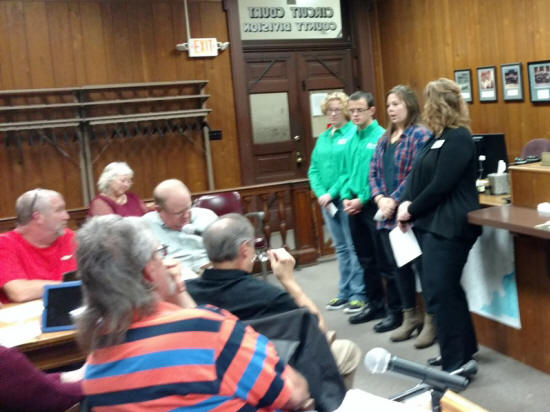 From left: Katie Lynn, Clayton Skelton, Kaitlynn Helton, and Extension Educator Carissa Akpore
Logan County Board hears from 4-H members how they benefit from the program

Send a link to a friend Share
[November 15, 2016] LINCOLN - At the November 10 Logan County Board Workshop, the board heard from three county 4-H members who shared how being in 4-H has helped them gain communication skills and confidence.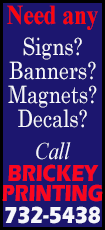 Carissa Akpore, Extension Educator for 4-H Youth Development at the University of Illinois Extension office in Lincoln, shared some history of 4-H. She said for more than 100 years, 4-H has been "a place where youth belong, youth lead and youth learn." The Logan County 4-H program provides opportunities for both youth and families.

Akpore said a fundamental 4-H idea of "learning by doing, encourages youth to experiment, innovate, and think independently." She said, "Logan County 4-H is growing competent kids who tackle issues that matter most to the community."

Akpore then introduced three team leaders who are "growing our competent leaders" - Clayton Skelton, Kaitlyn Helton and Katie Lynn. Each of them briefly discussed what they have learned from 4-H.

Skelton said 4-H has always been a huge part of his life. He said, "We have always been very involved with our community through our 4-H club in Middletown" through activities like donating canned goods to the food pantry and singing at the nursing homes each Christmas.
Skelton said 4-H has "given me an opportunity to communicate better, learn how to lead a group, and present myself and my ideas in another way."

Skelton will represent Illinois at a 4-H leadership conference in Georgia later this month.

Helton said she has been in 4-H for as long as she can remember and has been a part of many different projects, but "the most important" is leadership. Helton said, "Through 4-H, I have really grown in my leadership skills." She has done team teaching where they teach kids how to make healthy living choices and build better character.

[to top of second column]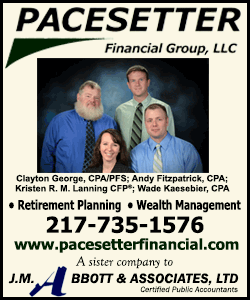 Helton said investing herself in kids and helping out people has helped her decide she wants to be a pediatrician. She said one of her most important experiences were at the National 4-H Leadership Conference. Helton said it was one of the "greatest opportunities I've experienced" where "I was able to learn how to communicate with people I didn't know."
Lynn said 4-H has helped "develop confidence in myself to be able to come up and give speeches like this one." She has been involved in service projects, learned how to help the community, and has done team teaching. Lynn has found her passion is teaching Ag.
Lynn said she is in several teaching programs in 4-H "teaching kids" from low income families "about healthy eating." Through the program she has met many kids, including some from Petersburg. Lynn said, "I got to see different points of view of how they see the world through what they are living through and how I see the world."

Lynn said through Ambassadors, I have flourished and learned to better communicate with others and express myself more.

Akpore thanked the board for their support and for listening to the youth, who are "our future."

Board members present were Chairman David Hepler, Vice Chairman Bob Farmer, Chuck Ruben, Gene Rohlfs, David Blankenship, Pat O'Neill, Emily Davenport, Kevin Bateman, Miles Craig, Rick Aylesworth, Scott Schaffenacker and Adam Schmidt.

[Angela Reiners]