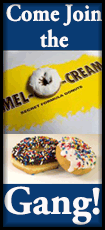 The resolutions of appreciation and plaques were presented to Rick Aylesworth and Patrick O'Neill, whose terms end this month, thanking them for their service.

Scott Schaffenacker read both resolutions. In 2002 the board changed its formation from at-large to a district form of government. He said the driving force behind this initiative was the Farm Bureau and the leadership of Mount Pulaski, who both wanted more representation.

The resolution said southeast Logan County sought a person of "sufficient quality, intelligence, and dedication to represent their interests."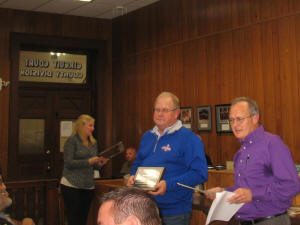 In 2005, Rick Aylesworth became that person when he was elected for District 3.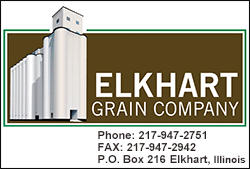 The resolution said Aylesworth "accepted any assignment offered him without question, complaint, or political overtone." He helped draft new board policies, create balanced budgets, and chaired the EMA committee for many years, protecting the community.

Aylesworth thanked past and present board members, Sally Turner and her staff, and board office administrative assistants Brenda Clark and Amy Kuhlman. He said many outside people do not realize how much is involved in committee meetings. Aylesworth said he was glad he said yes to the appointment in 2005.
Schaffenacker said Pat O'Neill has represented District 5 since 2002. He said O'Neill was immediately appointed chairman of the Animal Control Committee. The resolution said, at that time it was "practically unheard of for a new member to be assigned such a duty." In 2002, the animal control department was a struggling agency and O'Neill addressed every area of public concern and helped turn the agency around.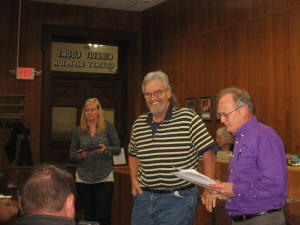 The resolution said O'Neill took it upon himself to help recognize the accomplishments of young people in the community. There are leading citizens today who are amongst his former Students of the Month.

The resolution said O'Neill along with then board chairman Dick Logan "advocated tirelessly for a transportation program." He served as vice chairman of the board from 2008-2010.
The resolution said O'Neill recently became Planning and Zoning Committee chairman addressing rural residential lot sizes, construction standards, a subdivision rewrite, environmental issues, the construction of a state of the art medical cannabis facility, wind farms, and many more topics that will "grow and safeguard the community of Logan County for years to come."
O'Neill said it is an emotional time for him. O'Neill said when elected, he believed in himself and would help the county.

O'Neill said he was overwhelmed by everything he accomplished with the help of so many and will have fond memories of his time on the board. He thanked the citizens of the county and board members and family.

Plaques given by the Logan County Board, thanked both Aylesworth and O'Neill for many years of service and wished them continued personal and professional success.
Hepler thanks board

Board chairman David Hepler said the two year cycle of this board is ending. Hepler thanked the board for the opportunity to serve as chairman and said it has been "an honor and a privilege."

Hepler said previous chairman Bob Farmer gave him a good foundation for leading the board.

Hepler said he hopes to serve whoever is in leadership as well as they served him. He said he has confidence in the board and whoever the leadership will be.

Hepler said he was impressed how members "philosophically opposed to each other" collaborate and find common ground, bringing policy changes that benefit the community. He said county employees work without the recognition they deserve and with little resources, they do so much for so many people in the community.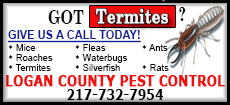 At the meeting the board unanimously approved six appointees. Derek Martin was reappointed to the Logan County Zoning Board of Appeals and Dave Schonauer to Regional Planning Commission. Jane Whiteman was appointed Animal Control Administrator/Warden and Dwayne Foley Assistant Animal Control Warden. Dr. Richard Bivin and Maxine Lolling were both appointed to the Board of Health.

Board members present were Chairman David Hepler, Vice Chairman Bob Farmer, Pat O'Neill, Gene Rohlfs, Chuck Ruben, Scott Schaffenacker, Adam Schmidt, Kevin Bateman, Dave Blankenship, Emily Davenport and Rick Aylesworth. Miles Craig was absent.

The next Regular Logan County Board meeting will be held Tuesday, December 20, 2016 at 7 p.m.

[Angela Reiners]