Lincoln Tae Kwon Do results
Send a link to a friend Share
[November 22, 2016] Competitors from the Lincoln Tae Kwon Do who participated in the 2016 Midwest Open Tae Kwon Do Championships held November 19th and 20th, at the Decatur Conference Center and Hotel. The event was hosted by Master Joshua Sharp of Sharpís Tae Kwon Do in Decatur.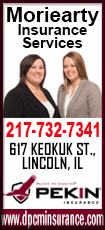 Master Sharp conducted a very well organized tournament with participants from throughout the Midwest.

The Fourteen Lincoln competitors who participated in Olympic Style Sparring Competition resulted in nine 1st places, three 2nd places, and one 3rd place.

The thirteen competitors who participated in Forms Competition resulted in three 1st places, two 2nd places and three 3rd places in their respective divisions.

Individual results are listed below by rank:
Charles Nelson - (Menís Special Division Black Belt) 1st Sparring
Elizabeth Denzler - (14 Year old Brown Belt) 1st Sparring and 3rd Forms
Vegeta Tanner - (12 Year old Brown Belt) 1st Sparring and 3rd Forms
Chris Smith - (Menís Red Belt) 1st Sparring
Jacob Denzler - (12 Year old Blue Belt) 2nd Sparring
Shadae Carter -(15 Year old Green Belt competing in the Womenís division) 1st Sparring and 1st Form
David Bard - (9 Year old Green Belt) 1st Sparring and 2nd Forms
Sydney Phan - (7 Year old Green Belt) 2nd Sparring and 1st Forms
Luke Hinch - (14 Year old Green Belt) 2nd Sparring
Darrin Watkins - (Menís Green Belt) 3rd Sparring
Emily Radespiel - (12 Year old Yellow Belt) 1st Sparring and 3rd Forms
Cerenitii Bard - (8 Year old Yellow Belt) 1st Sparring and 2nd Forms
Zoe Foertsch - (13 Year old Yellow Belt) 1st Sparring and 1st Forms
[Scott Brown]