Railers Win!!
Send a link to a friend Share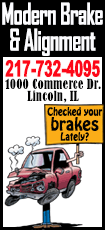 [October 08, 2016] By Benjamin Yount, pictures by Sherri Sparrow

LINCOLN – You couldn't hear a thing during the first three downs of Lanphier High School's final drive Friday night.

Lincoln's football team roared from the sidelines and the fans screamed from the stands.

But for a moment, a brief half-second, after the first Railsplitter defender made contact on a fourth down run there was absolute silence.

Then a second Railer hit the ball carrier, then a third. And Lincoln won its first varsity football game in four years.

It wasn't until well after the game, well after the students rushed the field, well after the hugs and tears that you could hear anything at Handlin Field.

Lincoln scored three touchdowns to beat Lanphier 21-20 for the Railer's first varsity football win since 2012.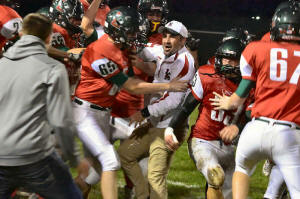 "This win means everything for this senior class," quarterback Andrew Yount said after the victory. "This senior class has never seen a varsity football win the entire time we've been in high school. It means everything."

Yount ran for Lincoln's first touchdown of the game. Juniors Titus Cannon and Isaiah Bowers scored the other two.

"I told the kids that if we play our perfect game. If we piece together all of the positives of the past six weeks. That we've have a chance in the fourth quarter," coach Matt Silkowski said after his first win at Lincoln.

Lincoln had to play a perfect fourth quarter.

The Railers were flagged for a questionable face masking penalty that put Lanphier across midfield with under six minutes left in the game. Two plays later the Lions scampered in for a touchdown and their first lead of the game.

But Lanphier missed the point after. Their lead was just 20-14.
Lincoln drove the length of the field in under four minutes. Isaiah Bowers muscled into the end zone to tie the game.

[to top of second column]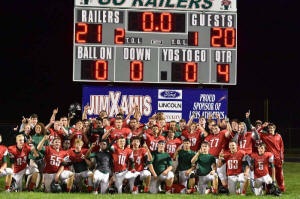 Freshman kicker Alex Bogdanic didn't flinch and sent the ball through the uprights to give Lincoln a 21-20 lead.

Lanphier got within two yards of a first down, but the Railsplitter defense held.

Bedlam followed.

"I got to give it up to our defense," senior center Jacob Berglin said after the win. "Our offense didn't come-up in the clutch sometimes tonight. But our defense stepped up. They are the heroes."

Senior defensive end Zach Montcalm said the Railsplitter defense rallied on Lanphier's final drive.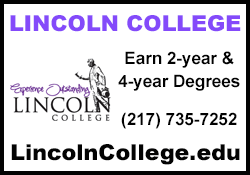 "We knew the whole game our defense had this. We just had to execute," Montcalm said.

Lincoln's last win came in October of 2012 against Olympia. The Railers lost 33 games in a row.

Coach Silkowski said he's honored to be the coach to lead Lincoln to victory once again.

"It's all about the kids," Silkowski said. "It's all about them. It always has been. It always will be will be. I'm just so proud of these guys. I couldn't be happier and prouder of these kids."

Lincoln will host Southeast High School next week at Handlin Field.