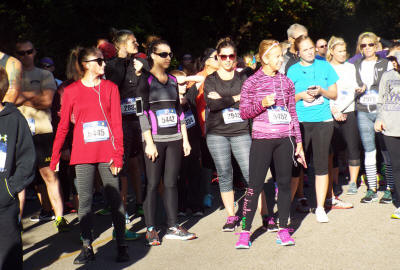 ALMH Run/Walk promotes healthy activity for all ages and fitness levels
Send a link to a friend Share
[October 11, 2016] LINCOLN - Runners and walkers, supported by family and friends, gathered at Edward Madigan State Park Saturday morning for the Abraham Lincoln Memorial Hospital Foundation and Memorial SportsCare Run/Walk. This year the Run/Walk featured a 5K, 10K, and 5-mile trail option for people of all fitness levels and all ages.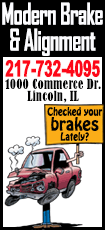 It was a perfect fall day for the youngsters to run a free 200-yard kid dash to start the racing. From toddlers to 10 year olds, children lined up at the start and gave it all they had to finish. The crowd cheered loud for the youth as they ran as fast as their legs would allow them. After the race each runner received a medal for taking part.

Then came the big event. Todd Mourning, D.P.T. director of program development at ALMH, gave the participants rules for the different races. All runners at registration were given a chip, a small plastic piece that would track a runner's progress and record times during the race. The timing chips are activated once a runner steps over the electronic mat at the start and finish. When a runner goes over the mat a second time the chip stops recording. Mourning reminded the runners that they should avoid the mat until they were finished with their event or their official time would not be recorded. Once the race was over, runners could find out their times by checking with Mourning who was able to look up the individual results on an ipad.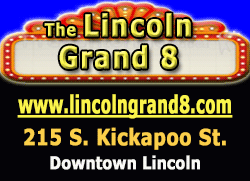 Volunteers were located throughout the park for runners who might need assistance. Volunteers also made sure the runners stayed on the right track for the event they were registered for.

After listening to the instructions, all participants took their marks and awaited the command to go.

Following are results from the 5K/10K race categories:

5K (A race that's 3.1 miles long.):
Men
1st Jackson Johnson, Lincoln - 18:54
2nd Dolan Dalpoas, Lincoln - 23:53
3rd Tony Zurkhammer, Lincoln - 24:07

Women
1st Danielle Sharpstene, Springfield - 25:57
2nd Laura Miller, Lincoln - 27:28
3rd Hattie Mourning, Lincoln - 27:33 (Age 11)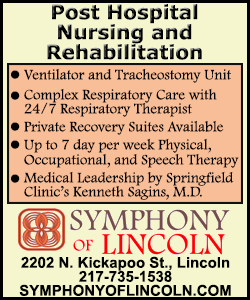 Youth (13 and under) winners were:

Boys Jace Whitted, Atlanta - 24:50
Girls Claire Duffer, Lincoln - 30:16
10K
Men
1st John Coultas, Springfield - 36:16
2nd Jordan Brimer, Mount Sterling - 38:22
3rd Carl Cox, Atlanta - 43:00

Women
1st Laine Sutkey, Union Grove, WI - 53:10
2nd Linda Mourning, Lincoln - 53:29
3rd Amy Barnes, Taylorville - 55:55

5K races are becoming more and more popular and are a great way for a beginning runner to maintain their physical fitness. Many organized 5K running events elect to raise money for a chosen charity. All proceeds from this year's race will support local wellness programs.

Mourning said, "I hope that this event encourages people of all fitness levels to get moving and celebrate health."

For information regarding Memorial SportsCare at ALMH call the ALMH Rehabilitation Department at 217-605-5500 or visit ALMH.org. Memorial SportsCare is a full-service athletic training program for athletes of all ages.

[Lisa Ramlow]