Adviser rules out Trump meeting North Korea's Kim in near future
Send a link to a friend Share
[October 12, 2016] By David Brunnstrom

WASHINGTON (Reuters) - An adviser to Donald Trump said on Tuesday he could not foresee any circumstances in the short or medium term in which the Republican presidential nominee would meet the leader of North Korea if he became president.

The remark appeared to take a step back from Trump's position in May, when he told Reuters he was willing to talk to Kim Jong Un to try to stop Pyongyang's nuclear program.

Peter Hoekstra, a former Republican congressman and now an adviser to Trump, was asked at a debate on U.S. policy towards North Korea under what conditions Trump would meet Kim.

"I can't imagine any set of circumstances, in the short or intermediate future, that would see President Trump in a summit meeting with the leader of North Korea," he said.

Hoekstra avoided directly repeating suggestions by Trump that U.S. allies Japan and South Korea could be allowed to develop nuclear weapons to defend themselves against North Korea, rather than relying on the U.S. nuclear umbrella.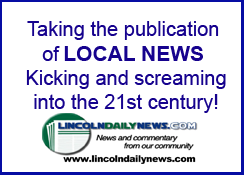 "That will be decided once South Korea, Japan the United States identify what their objectives are going to be vis-à-vis North Korea and the tactics they are going to put in place to address that objective," he said, when asked to clarify where Trump stood on the issue.

However, Hoekstra added that it would be "stated very, very clearly, as we go into those discussions with South Korea and Japan, that everything's on the table."

Former Assistant Secretary of State for East Asia Kurt Campbell, a supporter of Trump's rival Hillary Clinton, said: "The real issue here is, 'Is this strategically wise?'"

According to Campbell, Trump had said "maybe in the heat of the campaign ... things that have been deeply unnerving to Asia."

[to top of second column]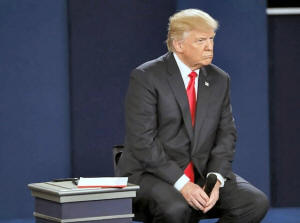 Republican U.S. presidential nominee Donald Trump listens during the second U.S. presidential town hall debate between Trump and Democratic U.S. presidential nominee Hillary Clinton at Washington University in St. Louis, Missouri, U.S., October 9, 2016. REUTERS/Jim Young
Hoekstra said Trump was not seeking to challenge U.S. friendships in Asia, but it was necessary to sit down with allies to develop a successful North Korea strategy.

Asked about Trump's complaints that Asian allies were freeloading on the United States, he said Trump's business background meant some of his statements came out "a little bit more coarse than some of us in the political world might be comfortable with."

But allies would be expected to pay their "fair share" as U.S. taxpayers could not subsidize the defense of others, he said.

Asked if their candidates considered preemptive strikes a conceivable means of dealing with North Korea's nuclear program, both Campbell and Hoekstra said no options were off the table.

(Reporting by David Brunnstrom; Editing by Bill Rigby)
[© 2016 Thomson Reuters. All rights reserved.]
Copyright 2016 Reuters. All rights reserved. This material may not be published, broadcast, rewritten or redistributed.