Deutsche Bank alerts managers to hiring freeze: source
Send a link to a friend Share
[October 13, 2016] FRANKFURT (Reuters) - Deutsche Bank has introduced a hiring freeze as it seeks to cut costs amid a deep strategic overhaul, a source familiar with the matter told Reuters on Thursday.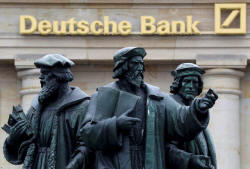 A statue is pictured next to the logo of Germany's Deutsche Bank in Frankfurt, Germany September 30, 2016. REUTERS/Kai Pfaffenbach/File Photo

Germany's flagship lender on Wednesday sent a memo to managers on the hiring freeze, which excludes the compliance department, the source said.

Deutsche Bank's management is working frantically to restore investor confidence by accelerating a programme of cost cutting measures following a U.S. demand to pay up to $14 billion for the misselling of mortgage securities before the financial crisis.

A Deutsche Bank spokesman declined to comment on the memo but referred to an earlier statement explaining that the bank is working on an ongoing headcount reduction plan.

(Reporting by Kathrin Jones; writing by Edward Taylor; Editing by Arno Schuetze)

[© 2016 Thomson Reuters. All rights reserved.]

Copyright 2016 Reuters. All rights reserved. This material may not be published, broadcast, rewritten or redistributed.