Visitation: 9:30 a.m. to 10:30 a.m. Saturday, October 15, 2016 at Fricke-Calvert-Schrader Funeral Home
Service: 10:30 a.m. at the funeral home
Funeral home: Fricke-Calvert-Schrader, Lincoln Mount Pulaski
Obituary
Ruth Irene Winter, 88, of Springfield, formerly of Lincoln passed away at 3:25 p.m. October 11, 2016 at St. Johnís Hospital Hospice.

Ruth was born November 1, 1927 in Lincoln, the daughter of C. O. and Goldie (Titchener) Musser. She married Clark Edward Winter January 23, 1948 in Lincoln. He preceded her in death March 13, 1991.

Ruth is also survived by her children Sharon (Dennis) Chrans of Springfield, and Greg (Terry) Winter of Dallas TX, seven grandchildren Pamela Childers, Zachary Winter, Richard Rayner, Danielle Alstott, Desirae Winter, Raymond Panneton, and Isacc Lewis, great Grandchildren; Marissa Calvert, Carson Raynor, Venessa Childers, Ellie Winter, Truleigh Raynor, Zachary Etcheson, Finley Winter, Brooklyn Raynor. She was preceded in death by parents, brother Robert Musser and sister Nora Deiss.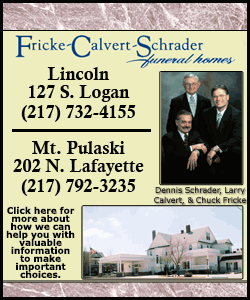 Ruth enjoyed music and she managed the laundromat for many years. She was also a former member of the Lincoln Christian Church and Jefferson Christian Church in Lincoln, and was a current member at Calvary in Springfield. Ruth traveled around the country performing with her husband before relocating back to Lincoln. She was known by her pony tail and her love for cats.

Services for Ruth will be at 10:30 a.m. Saturday, October 15, 2016 at Fricke-Calvert-Schrader Funeral Home, Lincoln with Henry Johnson officiating. Visitation will be from 9:30 Ė10:30 a.m. prior to services. Burial will be in Old Union Cemetery, Lincoln.

Memorials may be given in Ruthís name to The Animal Protection League or the Oasis.
Click here to send a note of condolence to the family of Ruth Irene Winter