Oilers open new home with win over Flames
Send a link to a friend Share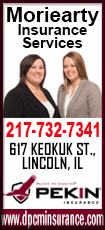 [October 13, 2016] EDMONTON, Alberta -- The Edmonton Oilers opened the brand-new Rogers Place with a lot of offensive fireworks.

Connor McDavid scored twice and added an assist as Edmonton beat the Calgary Flames 7-4 in the first regular-season game played at the new, 18,500-seat home of the Oilers.

It only took 1:10 for the Oilers to open the scoring. Patrick Maroon got the first regular-season goal at Rogers Place, tipping home a point shot from Leon Draisaitl past goalie Brian Elliott.

"I'm just lucky that it actually hit me," said Maroon. "I was just going to the front of the net. I think it hit off my shin-pad or my pants, but I was just trying to get to the dirty areas. But it's the first goal in Rogers Place history, so it's special."

But, just 36 seconds after Maroon's historic opener, Alex Chiasson tied the game. The right winger came out from behind the Oilers' net, took one whack at the puck, got another chance and beat goalie Cam Talbot.

The goals kept coming. Tyler Pitlick and Zack Kassian ensured the Oilers went into the intermission with a 3-1 lead. Pitlick scored at 5:34, a wrist shot in the top corner. Kassian scored on a breakaway at 15:12. At that point, the Oilers had beaten Elliott three times on just five shots.

The Flames outshot the Oilers 40-27.

"It was kind of one of those nights where everything that could go wrong, did go wrong," said Elliott of his performance. "That's not the way you want to start the season. The good thing is we have these guys back at home (Friday) and we'll get back to the drawing board."

In the second, Calgary capitalized on an Oilers mistake to make it 3-2 at 8:26. Draisaitl made an ill-advised pass to the center of the ice, which was intercepted by Troy Brouwer. The Flames' right winger converted the shorthanded breakaway.
At 11:51, Michael Frolik banged home a rebound to tie the game -- the Flames' second shorthanded goal of the period.

But, then it was time for the McDavid show. At 12:17, 2015's No. 1 draft pick scored his first of the season, with a shot that went right through Elliott and crept across the goal line.

Just over two minutes later, McDavid got a breakaway chance off a giveaway from Johnny Gaudreau, was hooked by Calgary defenseman Dennis Wideman, and was awarded a penalty shot. He came in on Elliott oh so slowly, picked his spot and scored.

"I was kind of reacting to what Elliott was doing," said McDavid. "You come with a lot of speed, you stop and you back him up. The goalie's kind of at your mercy, he has to make the first move. You wait for him to do that, and you try to do the opposite."

NHL all-time leading scorer Wayne Gretzky, who won four Cups with the team and was announced as partner and vice chairman of the Oilers Entertainment Group earlier in the day, marveled at McDavid's night.

"It's real credit to his family, and to the Oilers, and he's going to be a really great player for years to come," said Gretzky.

Gretzky was in the Oilers dressing room after the game, but the announcement that he was an Oiler again came as the refurbished statue in his honor was unveiled in front of the new arena. The Great One also joined fellow Hall of Famer Mark Messier in the on-ice opening ceremony.

[to top of second column]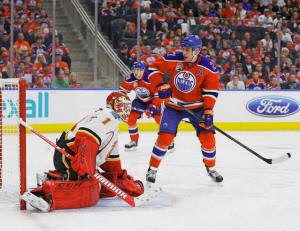 Oilers forward Milan Lucic (27) looks for a rebound in front of Calgary Flames goaltender Brian Elliott (1) during the second period at Rogers Place. Mandatory Credit: Perry Nelson-USA TODAY Sports
In the third, Oilers rookie Jesse Puljujarvi scored a power-play goal at 9:00, with a shot that went through the goalie.

Wideman scored a power-play marker at 11:29 to make the score respectable.

Jordan Eberle scored an empty netter with 1:22 left to make it 7-4.

"We had too many turnovers," said Brouwer. "We were careless with the puck. Especially against a team like Edmonton, they are going to make you pay. We just fed their turnover game all night long.

Gretzky noted that McDavid's big night came just hours after Toronto Maple Leafs rookie Auston Matthews scored four times in a loss to the Ottawa Senators.

"We always sort of go through these things, when Mario (Lemieux) retired and Mess retired, people say who's going to take over? And along came (Sidney) Crosby and (Alex) Ovechkin. And then they were like well, OK, how old are they getting? Who's going to come along? Guys like Matthews and, obviously, Connor. The game's always been in good shape. We're finding not only really good hockey players but really good people that come along."

Oilers defenseman Brandon Davidson left the game after a second-period collision with Calgary's Matthew Tkachuk.

NOTES: How hot were tickets for opening night at Rogers Place? As of Wednesday afternoon, the cheapest price you could find for tickets on StubHub were at $157 (U.S.) each; tickets in the club section were going for $800 (U.S.) each. ... As a member of the St. Louis Blues last year, Flames G Brian Elliott posted a league-best .930 save percentage. ... C Anton Lander, who scored just once in 61 games for the Oilers last season, survived the waiver process and was on the team's opening-night roster. He was a healthy scratch. ... The Oilers also scratched D Mark Fayne and D Matthew Benning. LW Matt Hendricks (lower body) and RW Iiro Pakarinen (lower body) are on injured reserve. ... The Flames scratched D Jyrki Jokipakka, C Freddie Hamilton and D Brett Kulak.
[© 2016 Thomson Reuters. All rights reserved.]
Copyright 2016 Reuters. All rights reserved. This material may not be published, broadcast, rewritten or redistributed.