Mourners gather to remember black man killed by Charlotte police
Send a link to a friend Share
[October 15, 2016] By Harriet McLeod

JAMES ISLAND, S.C. (Reuters) - Mourners at the funeral for Keith Scott, whose death in a police shooting in Charlotte, North Carolina last month led to a week of sometimes violent protests, called for a commitment to change and an end to hate.

The mood was somber inside the church on James Island, Scott's hometown near Charleston, South Carolina, some 200 miles from where the 43-year-old father of seven was shot and killed on Sept. 20.

Scott's family disputes the official police account that he was armed and acting aggressively before he was gunned down in a parking lot, a use of lethal force that fueled fresh concerns over the treatment of black men by U.S. law enforcement.

But Friday's funeral was mostly about remembering the man who loved reggae and reading, as well as the legacy he left behind. Dressed in white, Scott lay with his hands folded on his stomach in a half-open casket adorned with a spray of white flowers.

"Keith's life will not be in vain," Scott's father-in-law, Rayford Dotch, told the congregation, urging people to vote and get educated.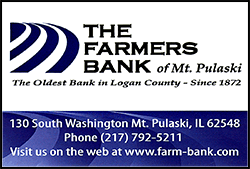 Afterward, the 78-year-old minister said his hopeful message was directed at his grandchildren.

"We never let anger lead them," he said.

Charlotte resident Michelle Cromwell, 40, a friend of Scott and his wife Rakeyia, admitted she was angry when she penned a song titled "Black Lives Matter, Too" after his death. She apologized to the congregation for the political nature of her words about racism and black men dying at the hands of police.

"We continue to feel the hate," said the mother of two boys, adding later, "It's a hard thing to swallow."

The funeral program said Scott had a fresh outlook on life after being badly hurt but surviving a motorcycle accident last November.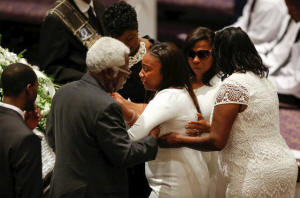 Keirra LaNae Scott (C), daughter of police shooting victim Keith Scott, mourns with family members during his funeral at the First Baptist Church in James Island, South Carolina, U.S. October 14, 2016. REUTERS/Randall Hill
In an interview aired on CBS this week, Rakeyia Scott said she believed the medication her husband took for his injuries had caused him to be confused by police officers' demands.

An independent autopsy released by the family on Wednesday showed Scott had gunshot wounds in his back, abdomen and wrist.

His funeral service was initially planned for last week but was postponed as Hurricane Matthew bore down on the region.

"I think the hurricane was Uncle Keith being humorous," said his niece Kaona Mercer, 26, a paralegal in Columbia. "He wasn't ready for us to bury him yet. He was a free-spirited, loving man."

(Reporting by Harriet McLeod; Additional reporting and writing by Colleen Jenkins; Editing by Bernard Orr)
[© 2016 Thomson Reuters. All rights reserved.]
Copyright 2016 Reuters. All rights reserved. This material may not be published, broadcast, rewritten or redistributed.