Visitation: 2 p.m. to 4 p.m., Sunday, October 16, 2016 at Fricke-Calvert-Schrader, Lincoln
Service: 4 p.m. Sunday at the funeral home
Funeral home: Fricke-Calvert-Schrader, Lincoln
Obituary
Arthur Milton Park II, 66, of Lincoln passed away at 11:16 a.m. on Wednesday October 12, 2016 in his home in Lincoln.

Arthur was born on September 26, 1950, the son of Harold and Eloise Park.

Arthur is survived by his two nephews, John (Lauren) Kent and Clifford (Billie Jo) Kent; John's children, Parker and John; and Clifford's daughter, Olivia.

Arthur grew up in Lincoln, IL and later attended Kemper Military School. After high school he joined the U.S. Army and was stationed in Germany during his service. He was a lifelong farmer, working alongside his father, Harold on the family farms. Arthur was an avid outdoorsman; he enjoyed fishing, hunting and recreational shooting. He was regularly surrounded by his friends, whether it be morning coffee, shooting tournaments, spending time at the lakes, or helping his dear friend Donnie Hopp.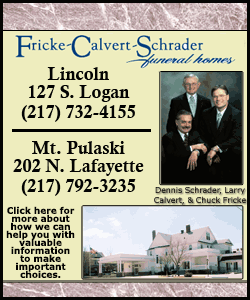 Arthur has been preceded in death by his parents, and his sister, Jane Kent.

Services for Arthur will be held at 4:00 p.m. on Sunday October 16, 2016 at Fricke-Calvert-Schrader Funeral Home in Lincoln. Visitation will be held from 2:00-4:00 p.m. on Sunday October 16, 2016 also at the funeral home.

Private family graveside service will be held at a later date.
Click here to send a note of condolence to the family of Arthur Milton Park II