Visitation: 9:30 a.m. to 10:30 a.m. on Saturday October 15, 2016 at Zion Lutheran Church in Chestnut
Service: 10:30 a.m. Saturday at the church
Funeral home: Fricke-Calvert-Schrader, Mount Pulaski
Obituary
Aurelia Stoll, 101 year old Chestnut native, died peacefully Saturday, October 8, at 7:41 p.m. at Vonderlieth Living Center in Mount Pulaski.

Aurelia was born January 20, 1915 to Otto and Lillie (Dittus) Stoll. Her mother preceded her in death, when Aurelia was only 17. At that time Aurelia became caretaker of her 5-year-old brother, Hubert, and took over household duties. She was the lady in charge at the family farm for eighteen years until Hubert married (Nancy) Jean Hatcher in 1949. Aurelia and her father moved to town where she continued to provide care for her father until he passed away in 1969.

Because Aurelia never married, she happily served Hubert and Jean and their growing family.
Memories include extra-special sleepovers, birthday homemade cookies for each family member, and handmade quilts for her nephews and nieces.

Aurelia was an active member of Zion Lutheran Church – Chestnut for at least 90 years. While at Zion, she worked as church secretary, often shared flowers from her garden for the church altar, and helped make quilts for mission projects.

Of her many service-oriented occupations, one most memorable is her time spent as a cook for the Vonderlieth Living Center in Mount Pulaski.

Aurelia was the last living grandchild of Matthew Stoll's twenty-four grandchildren. Her brother, Hubert, preceded her in death just this past July 20th. She was also preceded in death by sister-in-law, Jean, 10 years ago.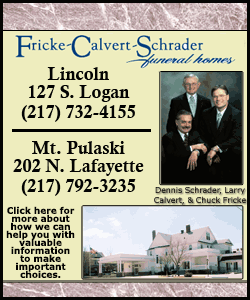 Her survivors include her nephews and nieces, Dennis Stoll of Chestnut, Cheryl (Jim) Poffenbarger of Mount Pulaski , Klista (Ray) Hegele of Springfield, Brenda (Allyn) Colantino of Springfield, Kenton (Marcia) Stoll of Chestnut, Kerwyn (Karen) Stoll of Mattoon, Deanna (Larry) Pratt of Cropsey and Rodney Stoll of Savoy, 26 great nephews and nieces, and 25 great-great nephews and nieces.

Wherever "Aunt Aurelia" served, she was frequently found in the kitchen with her sleeves rolled up and apron on. She has been an inspiration to many as she consistently emulated the values of humility, generosity, gentleness, work ethic, and faithfulness to God and her family and community.

Services for Aurelia will be held at 10:30 a.m. on Saturday October 15, 2016 at Zion Lutheran Church in Chestnut, with Rev. Jonathan Buescher officiating. Visitation will be held one hour prior to the service on Saturday (9:30-10:30 a.m.) Burial will follow the services at Laenna Cemetery in Chestnut.

Memorial donations may be made in Aurelia's name to Zion Lutheran Church of Chestnut.

Services have been entrusted to Fricke-Calvert-Schrader Funeral Home, Mt. Pulaski.
Click here to send a note of condolence to the family of Aurelia Stoll