Sad Senior Night For Railers
Send a link to a friend Share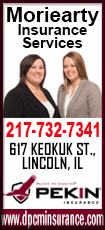 [October 15, 2016] By Benjamin Yount, pictures by Sherri Sparrow


LINCOLN – High school football players are a tough lot.

They scoff at cuts. They laugh at bruises. They brag about the damage they can take.

But every year, at the last home game of the season, the toughest young men at Lincoln Community High School get a little red around the eyes. The tears start to well up. The emotions start to break through.

Friday night was no different.

Lincoln's senior football players, the Class of 2017, scored two touchdowns but fell to Springfield's Southeast High School 54-13.

The Railspliiters started flat.

Lincoln fumbled on their first snap of the game, Southeast scooped it up and scored.

That's when some of Lincoln's seniors said it hit them: This is the beginning of the end.

"When they scored those first points. That set me on edge," senior Mario Murphy said Friday night. "The mood changed when they got that first touchdown."
But for some Railsplitters the realization that this was their last time through the tunnel at Handlin Field, in front of the home crowd, started much earlier.

"Waking up this morning. I knew it was going to be a slow day," senior Scott Lessen said. "I knew it was all over."

Senior Noah Morgan said he knew the end was coming earlier in the week. He wasn't able to play the final home game.
Senior Austin Newton said he knew this week was off. He said none of the Railer defenders had "the right kind of mojo."
Lincoln fell behind early in Friday's game against Southeast.

But the team rallied in the second and third quarters to put two touchdowns on the board.

Senior Nathan Podunajec scampered off-tackle for a touchdown run in the third quarter.

"Coach said 'Look inside,' but there was nothing in the middle. They closed it off," Podunajec said Friday. "I took it outside. It was wide open. I was hoping to get a break and run it for a touchdown. That was one of my goals."

[to top of second column]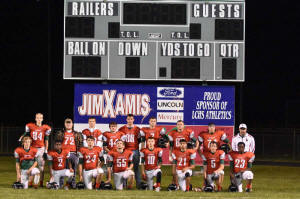 Because Lincoln won just one game, the Railers played for pride most of the year.

That pride was evident Friday night.

"This morning when I put on my jersey before I went to school. I realized that's my last home game," senior fullback Trent Whitham said.

"Once we came out of the game, that's when it set in," senior center Jacob Berglin said. "On the sideline we had time to think."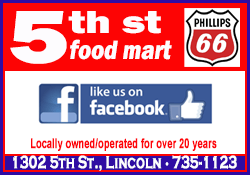 Senior Quentin Bone said he looked in the mirror before Friday's game and realized his four years as a Railer football player were almost over.

"I put on my pads,. I tied up my laces. I realized I'd never do this again," Bone said. "After this year I'm done."
Lincoln fought on Friday night. The running game ground out yards. Senior Quarterback Andrew Yount tossed a nearly 40-yard completion to Alex Linares in the second quarter that lead to the Railers' first score of the game.

"The safety vacated," Yount said. "I juked-out the defensive end. I saw Alex (Linares) downfield, and put it up."

Yount teared up as he talked about the last home game for his senior class.

"We are brothers," Yount said as he fought off a whimper. "We're not just teammates. We are brothers."

Lincoln fell to 1-7 on the year. Southeast jumped to 3-5.

The Railsplitters close out the season next week against Chatham Glenwood in Chatham.
[© 2016 Thomson Reuters. All rights reserved.]
Copyright 2016 Reuters. All rights reserved. This material may not be published, broadcast, rewritten or redistributed.