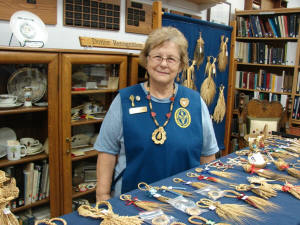 Ancient craft of wheat weaving shared by Lincoln woman
Send a link to a friend Share
[October 24, 2016] LINCOLN - It's not often that a person gets to see an art form that has been passed down from ancient times. That is exactly what was on display at the monthly meeting of the Logan County Genealogical and Historical Society Monday evening. Dianne Ruff from Lincoln spoke about her artistry with wheat weaving, a skill that has been found in Egyptian tombs.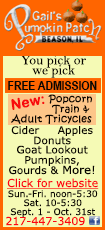 "My mom taught me how to weave wheat when I was a child," she said. Her father grew a special plot of wheat at their home that was used only for wheat weaving. Ten days before the wheat was fully ripened, it was picked, carefully dried, and cleaned. Before weaving, a process similar to braiding, the wheat has to be placed in a water bath to make it pliable. "I usually use from two to twelve wheat stems and heads to weave, but once I used thirty-nine. It was a big project," she said with a laugh.

Dianne has been to England twice to take classes and attends conventions in the states. She is past president of the International Association of Wheat Weavers and is the current president of the Illinois Association of Wheat Weavers. "We don't have a lot of members, but we are trying to preserve an ancient art form, and get more people interested in doing it," she said.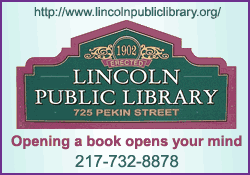 The International Association is having its convention next year in Indianapolis. "I have met wheat weavers from as far away as Australia," she said.

Dianne teaches classes and gives demonstrations during the conventions.

While giving her talk she wove a unique heart shaped piece so that her audience could see how it was done. It was an amazing demonstration of dexterity and creativity.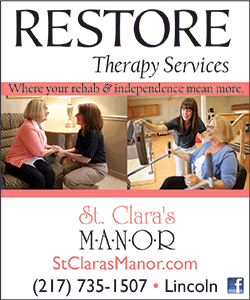 In ancient times, wheat weaving had a religious perspective to it. Each fall during the harvest, the last of the wheat was set aside for wheat weaving in hopes of catching the spirit of the harvest in the figure. In the spring, the wheat weaving figure was planted before the rest of the crop in hopes that the spirit of the grain would make a bountiful harvest.
While many of Dianne's figures use the wheat stem and seeds, she also converts wheat into other forms. Her husband Don created a special spinning wheel that turns wheat into thread. She uses the thread to enhance her figures, giving them another dimension.

Dianne frequently uses several types of grain in each figure, or plait (pronounced plat), to create a more complex work. "People do embroidery with wheat, and make paper from it," she said.

The monthly meeting Logan County Genealogical and Historical Society is the third Monday of each month at their headquarters on Chicago Street at 6:30 p.m. There is always an interesting speaker and the public is invited to attend.

[Curtis Fox]