Creekside Fall Festival honors Bill and Jean Gossett and Pete and Ruth Fredericks donations
Send a link to a friend Share
[October 25, 2016] LINCOLN - It is an exciting time for Lincoln College: enrollment is up 15% this school year, there is an explosion of Ph.D. faculty, and a hundred acres of land have been dedicated to the Creekside Outdoor Center for Environmental Education.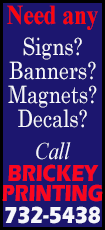 For over six years Dr. Dennis Campbell has led students in science projects along Sugar Creek and in his words, "It's a pretty sweet creek!"

On Saturday, October 22, he invited friends of Lincoln College to explore along the creek anytime. These friends were gathered at Creekside for the annual Fall Festival. The Festival began with two special dedication ceremonies to honor donors who support environmental learning opportunities.

Pete Fredericks donated a log cabin to Lincoln School District #27 in 2001. In June of this year that cabin was donated and relocated to Creekside.
According to Dr. Campbell, "Pete is generous to community, family, and religion, giving of his time, information, and energy. The donation from Pete and Ruth is wonderful to our future. It will be here to enjoy and experience."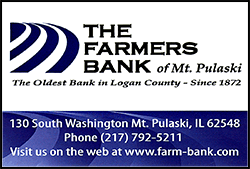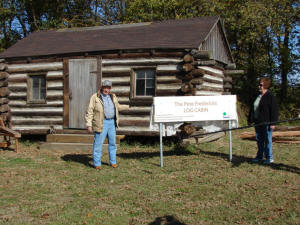 Pete responded to the kind words, "I just hope it's (the cabin) here forever." The dream for the cabin is to have it displayed like a cabin at New Salem with a wood stove, a table, a bed, etc. Outside the cabin, along the split rail fence, it would be great to have a Prairie Garden. This dream can only become a reality through generous donations from the community.

Bill Gossett, his father, sister, and son are all alumni of Lincoln College. Bill and his wife Jean were described as the "Heart and soul of life at Lincoln College."
Years ago Bill and Jean were joined by students, faculty and staff to "plant seeds of the past for the future." Together one acre of tall prairie grass has been planted.
On Saturday the "Bill and Jean Gossett Tall Grass Prairie" was dedicated to Creekside. Not missing an opportunity to share a joke Bill laughed, "It's taken me 93 years to get TALL associated with my name."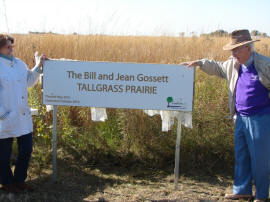 An 800-foot boardwalk is being constructed to make it easier for visitors to get around the grounds. "People of the Past Boardwalk" is being built foot-by-foot as donations are made for birthdays, wedding, and anniversaries. The community is urged to visit Creekside and make a donation to complete the boardwalk.

To conclude the dedication ceremonies, Dr. Campbell introduced Dr. Julia Ossler. As Dr. Campbell steps away from teaching, Dr. Ossler will pick up where he left off. Her education focus is on plant biology and she is excited to have Creekside as an education tool for her students.

Creekside Outdoor Center for Environmental Education is a beautiful setting to explore and learn about nature. Located approximately 4 miles due north of Lincoln, it is free of charge and open to the public.

[Lisa Ramlow]