Send a link to a friend Share
August 2016
---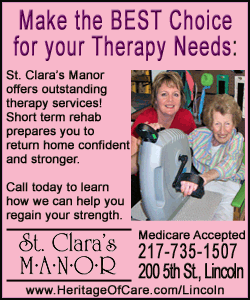 Wednesday, August 31
Breastfeeding support group
HOSTED BY: Abraham Lincoln Memorial Hospital
WHO: New mothers
DETAILS: Breastfeeding support group meets weekly. Participants weigh their babies and have an opportunity to share stories and ask questions of a certified lactation consultant. Bring your lunch.
WHERE: Steinfort B at ALMH, 200 Stahlhut Drive
WHEN: Noon to 1:30 p.m.
Lincoln Rotary Club meeting
HOSTED BY: Lincoln Rotary Club
WHO: Rotary members
DETAILS: Weekly meeting
WHERE: Meyer-Evans Student Center, Lincoln College
WHEN: Noon
Senator Mark Kirk Mobile Office
DETAILS: See story in Lincoln Daily News
WHERE: Lincoln City Hall
WHEN: 1 p.m. to 3:30 p.m.

---