Visitation: 10 a.m. to 11 a.m., Saturday, August 27th at St. Patrick's Catholic Church, Elkhart
Mass of the Resurrection: 11:00 a.m. Saturday August, 27 at the church
Celebration of Life: After the Saturday services in the Lincoln College Cafeteria, Lincoln
Funeral home: Fricke-Calvert-Schrader, Mount Pulaski
Obituary
Betty J. Hickey of Mount Pulaski, formerly of Elkhart, passed away at 12:03a.m. on Thursday August 25, 2016 at Vonderlieth Living Center in Mount Pulaski. She was born February 4, 1923 in Mt. Pulaski, to Oswald and Theresa Greenig Brooker. She married James T. Hickey on August 30, 1947. Surviving is one daughter, Sister Julie Hickey OSU of San Antonio, TX, one brother; Kenneth (Dorothy) Brooker of Mount Pulaski, and a niece and nephews. She was preceded in death by her parents, two sisters and her husband.

Betty was a member of St. Patrick's Church, Elkhart. Besides her creative, energetic presence as a wife and mother on Pine Lodge Farm, Betty managed the Abraham Lincoln Museum Gift Shop, Mrs. Lincoln's Neighborhood and the Abraham Lincoln Book Shop; all in Springfield. Upon her retirement, she and her husband Jim delighted in entertaining family and friends at "barn parties" on their farm. Betty was also instrumental in planning the Grand Soiree at the Lincoln College, volunteering at the Mount Pulaski Historical Society, the Elkhart American Legion Auxiliary and the Red Cross. She was a member of the Elks Club in Lincoln. She leaves us the legacy of a deep faith, a vibrant love of life, and a gift of always caring for others. She often said the motivation for helping was a tribute to her husband and her parents.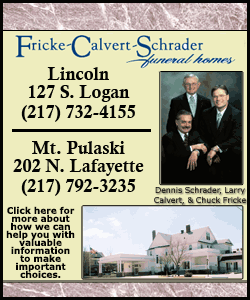 The Mass of the Resurrection will be held at 11:00 a.m. Saturday August, 27 2016 at St. Patrick's Catholic Church in Elkhart, with Reverend Jeffrey Laible officiating. Visitation will be held one hour prior to the Mass of the Resurrection (10:00-11:00a.m.) on Saturday August 27, 2016 at St. Patrick's Catholic Church. Burial will follow the Mass at Holy Cross Cemetery in Lincoln.
A Celebration of Betty's life will be held at the Lincoln College Cafeteria for continued stories and fellowship immediately following graveside services.

Memorial contributions may be made to: St. Patrick's Catholic Church, Elkhart, Ursuline Sisters of the Roman Union Central Province (Susan Whelan Ursuline Sisters of Central Province, 353 South Sappington Road, St. Louis, MO. 63122 ph. (314) 821-6884 or online at www.osucentral.org) or Mount Pulaski Historical Society.

Click here to send a note of condolence to the family of Betty J. Hickey