Logan County Relay for Life raises $51,798.82 in the fight against Cancer
Send a link to a friend Share
[September 07, 2016] LINCOLN - On August 31 the collections officially ended for the 2016 campaign of The Relay for Life of Logan County. According to the records from the Springfield office the total raised was $51,798.82.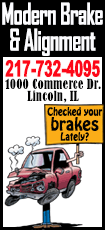 The local Relay for Life event was held at Lincoln College on June 18th. The 28 teams, 32 sponsors, 17 In-Kind sponsors and the 289 survivor participants who walked the track, are the ones who make the local contribution to fighting Cancer possible.

This year 758 luminaria lifted up the memory of or the celebration of lives touched by cancer.

Special recognition was given to the teams earning the most funding. They were: Angels All Around - $5520.50, Ethelís Angels - $6553, and Friends Walking For A Cure - $5455.

Also recognized were the individual top fund-raisers of over $1000: Donna Miles - $3434, Marilyn Kasa - $2300, Julius Kasa - $2300, Carolyn Motley - $1813.58, Esther Boward - $1630, Cheryl McGill - $1360 and Tamara Dietrich - $1284.
Leadership for the 2016 was provided by Cyra Buttrell who will also co-lead the 2017 Relay For Life of Logan County.

Congratulations and thanks go to citizens of Logan County and those from surrounding areas for caring, for helping make research and new treatment incentives, for that cure we strive to find, possible and to come a little closer to that reality.
[Tonita Reifsteck]