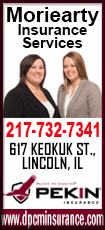 In addition to many of the traditional festival offerings such as community contests, the Little Miss and Cutest Little Farmer contest, and of course, a great parade on Saturday, the Mount Pulaski Courthouse Foundation will offer the following special events.
Friday, September 9th

On Friday, at 3 p.m., Fred Lipp will demonstrate how to make a Muzzle Loader gun. Fred has made several such guns and also participates in various shooting events with his creations.

From 4:30 p.m. to 5:30 p.m. on Friday, Tom Martin, of the Courthouse Foundation, will read several childrenís books about Mount Pulaskiís favorite historical person; Abraham Lincoln. Perhaps he will read about Lincolnís horse named Bob or about what made him grow a beard.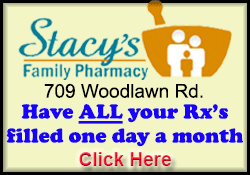 Saturday, September 10th

On Saturday, from 9:30 a.m. to 10:30 a.m., Lola Toohey will demonstrate hooking a rug. You could learn how to make your own rug.

The Courthouse will be closed from 1 p.m. to 2 p.m. on Saturday for the annual Fall Festival Parade.

At 2:15 p.m., Carla Mayernick, author of "Where Is Abe?" will read aloud her children's book. There will also be books for sale, and a book signing event to go along with the reading.

At 3 p.m. Charles Buie will demonstrate wood barrel making. In its history, wood barrels were plentiful in Mount Pulaski during prohibition, as whiskey was made in Mount Pulaski and shipped in barrels to other places. That is where the town's nickname ďVinegar Hill" comes from. Charles will also show how to make a wooden bucket.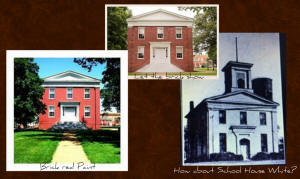 Voice your opinion

As the Mt. Pulaski Courthouse Foundation moves to the next phase of repairs, the paint on the outside of the east wall of the courthouse will be removed. After drying out for a year, new, breathable paint will be put on. Then another period of waiting will follow before other walls will be done. Vote to paint the Courthouse red as it is now, return it to the original brick, or paint it white.
Volunteers Welcome!

The Mount Pulaski Courthouse always welcomes new volunteers. Call Barbara Stroud-Borth to learn more: 217-792-5126, or 217-792-3919.
[Barbara Stroud-Borth]