Logan County Genealogical & Historical Society hosting Cemetery Walk September 17th
A walk in Holy Cross and Calvary Cemeteries
Send a link to a friend Share
[September 10, 2016] LINCOLN - Holy Family and Calvary Cemeteries are being featured for the Saturday, Sept. 17, walk being presented by the Logan County Genealogical & Historical Society.
The graves of Mrs. James Coogan, Nicholas Peifer, the Hickey Family, the Musick Family, Senator T. L. McGrath, Father James Tuohy, Courtney Savage, John Schwenoha, and the Madigan Family will be visited.

Presenters will be Judy Lumpp, Mrs. Coogan; Tom Peifer, Nicholas Peifer; Ron Keller as James T. Hickey; Barry King, a member of the Musick Family; Tim Becke, Senator McGrath; Tim McCormick, Father Tuohy; Tim Searby, Courtney Savage; Tom McLaughlin, John Schwenoha, also known as Coonhound Johnny; and Jonathan Wright, Edward Madigan.

A history of the Cemeteries will be given by tour guides and bottled water will be available for tour participants.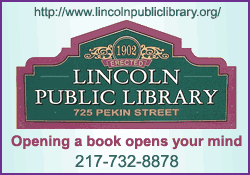 Admission will be by donation. Walks will begin at 9:30 a.m. and continue until 11:30 a.m. each 15 minute interval. Walks will resume at 1 p.m. with the last walk of the day beginning at 3 p.m. A few golf carts will be available for transportation for those unable to walk the tour route. Chairs will be available throughout the walk, but participants may bring blankets. A portable toilet will be available.

Those driving to the walk are asked to use the south entrance to the cemetery, which is adjacent to Old Union Cemetery south of Lincoln.

The Cemetery Walk is being made possible through grants from the Illinois Community Prairie Foundation, Thrivent and additional local sponsors.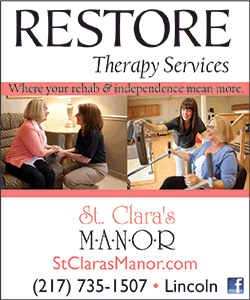 The Logan County Genealogical Society is a not for profit organization which maintains a library and historical collection for Logan County and its communities and houses information on other Illinois countries and states. Of special interest is the Lincoln Room collection and items on other American presidents.
The research center is available free of charge, although there is a charge for extensive research performed by volunteer staff. Donations are accepted.

The Center will be open for touring and research Saturday, Sept. 17, from 9:30 a.m. to 4 p.m. It will reopen Sunday, Sept. 18, from 10 a.m. until 4 p.m. Normal hours are Tuesdays, Thursdays, and Fridays from 11 a.m. until 4 p.m. and the second and fourth Saturdays from 10 a.m. until 1 p.m.
[Diane Osborn]