The program marks its 10th anniversary today, Sept. 1. The past decade has seen ALPLM staff and volunteers interview nearly 800 people, generating 2,200 hours of audio and video.

The Oral History Program captures the memories of people who made history, preserving insights and details that documents alone cannot record. The program also produces teacher resources that allow these stories to be used in today's classrooms.

"The oral history program at the Abraham Lincoln Presidential Library and Museum is a wonderful resource for this and future generations," said Alan Lowe, the presidential library's executive director. "We are proud of the work that has been done preserving our shared history, and want to thank our terrific staff, led by Dr. Mark DePue, and all of those who have supported our efforts in oral history."

DePue has directed the program since its inception, overseeing the work of others and interviewing more than 240 people – sometimes many times over a period of months.

His most memorable interview subjects include:


Cecil 'Tuck' Belton, a B-17 co-pilot whose plane went down over Holland during World War II. He spent months working with the Dutch underground pretending to be deaf and mute.

Mary Lee Leahy, the attorney who took the Rutan political patronage challenge all the way to the U.S. Supreme Court and won, forever changing Illinois government.

Dawn Clark Netsch, a leader in the fight for the Equal Rights Amendment in Illinois, and Phyllis Schlafly, the amendment's most famous opponent.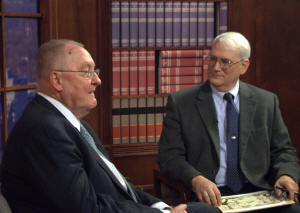 Governor Jim Thompson with Mark DePue
Governor Jim Thompson, who talks about the notorious night the clocks stopped during debate in the Illinois House. Once the clocks started again, the legislature had approved funding for a new White Sox stadium.

Vince Speranza, the 101st Airborne paratrooper and Battle of the Bulge survivor who has been immortalized by the citizens of Belgium with his own beer – Airborne Beer.
Bob Rogers, whose company designed exhibits at the Lincoln Presidential Library and Museum that have inspired people from around the world. His discussion of balancing scholarship with showmanship offers rare insights into the creative process.

"It's been my great honor over these past ten years to meet some of Illinois's most fascinating people, individuals from all walks of life who have lived meaningful lives and made history in the process," DePue said. "We've accomplished a lot, and much of the credit goes to an incredibly talented and dedicated group of volunteers and interns who do everything from conducting interviews to transcribing, editing and processing them."

To hear the interviews and read transcripts, visit www.OralHistory.illinois.gov. The list of projects includes Agriculture in Illinois, Immigrant Stories, Illinois Statecraft and Veterans Remember.

Dr. DePue will be a featured speaker Oct. 6 at the annual Conference on Illinois History. He will discuss the program's creation and development, his dedicated group of volunteers and interns, and share some of his favorite stories from the program's first decade.

The Abraham Lincoln Presidential Library and Museum, a division of the Illinois Historic Preservation Agency, holds an unparalleled collection of Lincoln documents, photographs, artifacts and art. It uses that collection, modern technology and traditional story-telling to connect visitors to the 16th president. Learn more at www.PresidentLincoln.illinois.gov.
[Christopher Wills]