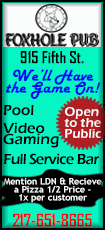 Glover completed his residency at Southern Illinois University School of Medicine in Springfield. He received his medical degree from Philadelphia College of Osteopathic Medicine in 2012.

He earned a master of public health degree from Indiana University in Bloomington in 2009 and received his bachelor of arts degree in sociology from Georgia State University in Atlanta in 2005.

He joins eight other physicians at Memorial Physician Services-Women's Healthcare at 747 N. Rutledge St. in the Baylis Building. The phone number is 217-757-7932. Memorial Physician Services is one of seven affiliates of Memorial Health System.
[Michael Leathers, Memorial Health Services]