Lincoln College Men's Golf
Send a link to a friend Share
[September 12, 2016] In sloppy, wet and rainy conditions on Friday, the LC men's golf team was able to battle the conditions as well as an unfamiliar track to fire a 308 team score at the first annual Tiger Collegiate Invitational hosted by Olivet Nazarene University at the 6,430-yard, par-72 Kankakee Elks Country Club in St. Anne.
The two-day, 36-hole event features five NAIA men's teams and Lincoln College, the lone NJCAA team in the field. In conjunction with the men, the women's teams from each NAIA school is also competing.

Lynx Sophomore Hunter Bettis (Bluffs, IL) led Lincoln College with an even-par 72. Bettis finished the day with three birdies on his card and is one shot off the lead.

Following up Bettis was sophomore Cody Curry (Mason City, IL), who shot his best 18-hole tournament round with a 76. Curry's only birdie of the day came on the par-5 third hole.

With a round that featured three birdies, Lincoln High School graduate Jack White fired a 6-over-par 78. White scored birdies on holes 2, 4, and 12. White's birdie on the short par-4 second hole was almost an eagle two as his green-side bunker shot rimmed the hole leaving a short tap-in for his birdie.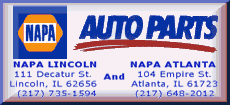 Josh Matthews (Delavan, IL) recorded the final Lynx team score as he finished with another 82. Matthews has scored either 81 or 82 in all six of his qualifying or tournament rounds so far this season.

Rounding out the scores for the Lynx was Hunter Leach (Glasford, IL) with an 83.
Head coach Jeff Nelson said of day one, "The guys hung in there quite nicely for such difficult conditions today. Not only was the on-and-off rain, sometimes coming down quite heavy, an issue, the bugs and mosquitos were almost unbearable! The final tee shot I saw Leach hit, there were literally 15-20 mosquitos hovering around his head. Let me tell you, golf is hard enough without have to deal with that buzzing in your ears. I'm very proud of our guys for hanging in there all day long. They've put themselves in a decent position to finish the two-day event with a nice score. Our goal was 305, and we were just a couple of shots off of that. I really think we can shoot 300 on Saturday now that they've all had a chance to see the course and learn green speeds and sight lines. I know one thing, we'll have plenty of bug repellent before we start."

The University of St. Francis takes the lead heading into Saturday's shotgun start which will begin at 11:00am, weather permitting.
[Jeff Nelson]