Hamlin wins NASCAR race in Richmond
Send a link to a friend Share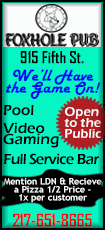 [September 12, 2016] RICHMOND, Va. -- Denny Hamlin claimed his third NASCAR Sprint Cup Series win of 2016 with a victory at his home track in the Federated Auto Parts 400 NASCAR Sprint Cup Series race at Richmond International Raceway on Saturday night.

"That's what's so special about it, so you get to do it at home and there's just -- I see all the extra Denny Hamlin shirts and hats and everything and fires me up every time I get here," Hamlin said.

Kyle Larson got by Martin Truex Jr. on the final lap to take runner-up honors. Truex, Brad Keselowski and Kevin Harvick finished third through fifth, respectively.

A track-record-setting 16th caution occurred on lap 399 of the 400-lap scheduled distance when Regan Smith made hard contact with the wall. That sent the race into overtime for a two-lap sprint to determine the winner. Hamlin and Truex restarted on the front row, ahead of Kasey Kahne, who was looking for a win in his final chance to get into the Chase for the Sprint Cup, which starts Sept. 18 at Chicagoland Speedway.

But when the race restarted for the final time, Kahne slid backward instead of going forward, dropping outside the top five by the checkered flag.

With 12 drivers locked into the Chase by virtue of race wins, four drivers headed into Richmond in the provisional spots to claim Chase berths. Those four drivers -- Chase Elliott, Austin Dillon, Jamie McMurray and Chris Buescher -- left RIR with official Chase berths. Buescher, with a win already, had to manage to remain in the top 30 of the points standings by remaining ahead of David Ragain. Buescher was among the eight drivers involved in the record-tying 14th yellow flag on lap 363, but fortunately for him, Ragan also was among the drivers involved.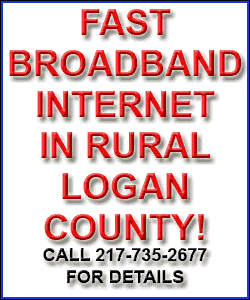 "I knew we could get here," Buescher said of making the Chase. "I knew we had a good shot at it. For as much as we had going on, I know David is bummed to get caught up in a wreck, and that isn't how we wanted to clinch it, but it made it easier in that sense. The second part was trying to get to the top-30 in owner points, and that wasn't easy, either."

While the yellow flag waved only four times in the first half of the race, with the fourth caution coming at the halfway mark, it waved often in the second half for another 12 cautions. The 15th caution led to a 20-minute red flag for extensive track clean-up after a wreck that started with contact between Ryan Newman and Tony Stewart. Stewart's car caught fire and Dylon Lupton's car came to a rest on the hood of Newman's car.

"The No. 14 (Stewart) cut across my note into turn one, and I got into him after that, but he'd already chopped into me and messed up my line and I clipped him a little bit coming off of (turn) two," Newman said. "But he just cut across my nose. Going down the back straightaway there, I guess he thought he was in a sprint car again; did not know how to control his anger."

Truex and Hamlin continued their combined dominant performance well into the second half of the race before Truex was sent to the back of the field because of a speeding penalty during a lap-265 caution. Before that point, he had led a race-high 175 laps.

"I don't think anybody's got a leg up on us, that's for sure," Truex said. "We've got fast cars. We've got smart people calling the race and setting the cars up, and the cars have been fast all year long; we've shown that."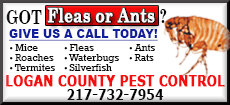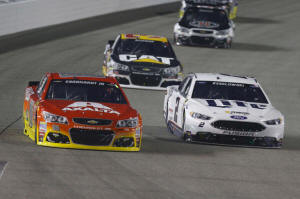 Sprint Cup Series driver Jeff Gordon (88) races driver Brad Keselowski (2) during the Federated Auto Parts 400 at Richmond International Raceway. Mandatory Credit: Amber Searls-USA TODAY Sports
Hamlin continued up front as Truex worked his way back up through the field. Truex pitted during a lap-279 caution and then stayed out when the yellow flag waved again on lap 291. He restarted the race third and quickly got back up to second.
On lap 303, Truex retook the lead, but Hamlin took the top spot for good when he got off pit road first during the 10th caution of the race that came out with just under 80 laps remaining.

"Really got it tuned in there the last half of the race," Hamlin said. "Just good restarts. Finally, everything just kind of worked well for us all day."

Truex was the leader at the halfway point of the race, and Toyota held the top three spots at that point, with Matt Kenseth running second and Hamlin third.

The race reached its halfway point under yellow as a result of Jimmie Johnson hitting the wall. The Johnson caution was the fourth of the race.

Hamlin started the race on the pole and Truex began sixth. The two combined to lead most of the laps in the first half of the race. The only other lap leaders were Jeffrey Earnhardt, Kenseth and Kurt Busch, leading a combined four laps, all under caution as cars worked their ways on and off pit road. Truex took his most recent lead just past lap 100.

Throughout much of the first half of the race, Toyota held possession of the top four spots in the running order, with Kyle Busch also running in the top four. But Ford driver Keselowski crashed the Toyota party just before lap 150 when he got by Busch for fourth.

NOTES: The Federated Auto Parts 400 marked the 500th career Sprint Cup starts for Jamie McMurray and Greg Biffle. ... Joe Gibbs Racing won the last two races at Richmond International Raceway, with Carl Edwards winning there earlier this season and Matt Kenseth winning last year's Federated Auto Parts 400. ... Kyle Busch is the winningest active driver at RIR with four victories. ... Busch dominated and won the NASCAR Xfinity Series race at Richmond on Friday night, leading 197 of 250 laps. ... Heading into Saturday's Richmond race, the final race of the regular season, 12 drivers had already clinched spots in the 16-driver Chase for the Sprint Cup by virtue of race wins -- Kevin Harvick, Brad Keselowski, Joey Logano, Carl Edwards, Denny Hamlin, Kurt Busch, Kyle Busch, Martin Truex Jr., Matt Kenseth, Jimmie Johnson, Kyle Larson and Tony Stewart. Chris Buescher also had a regular-season race win but headed into Richmond too close to the top-30 cut-off to already have a Chase berth clinched. Chase Elliott, Austin Dillon and Jamie McMurray were the other three drivers, heading into RIR, in provisional Chase spots.
[© 2016 Thomson Reuters. All rights reserved.]
Copyright 2016 Reuters. All rights reserved. This material may not be published, broadcast, rewritten or redistributed.