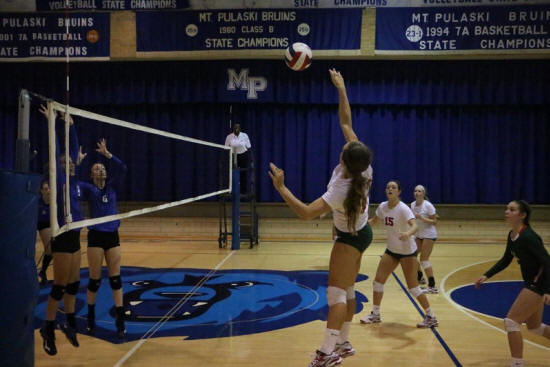 Lincolnís Josalyn Owens goes up for a kill over Springfield Lutheran High School Saturday evening at the Bob Gasaway Gymnasium. Owens was named to the Mount Pulaski Fall Festival All-Tournament Team as was Abigail Fitzpatrick from Mount Pulaski.
Lincoln Lady Railers and Mount Pulaski Lady Toppers both finish the Mount Pulaski Fall VB Festival Tournament with 1-4 records
Send a link to a friend Share
[September 19, 2016] Both Lincoln and Mount Pulaski's Volleyball Teams finished the weekend with identical records of 1 win and 4 losses.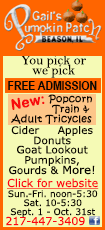 Friday night Mount Pulaski lost to Fulton 23-25, 25-18 and 23-25 and then to Newark 22-25 and 24-26.

Meanwhile, Lincolnís two losses Friday night came at the hands of first Eastland, who won 25-20 and 25-20 over the Lady Railers; and then Taylorville, who defeated Lincoln 25-21 and 25-23.

Saturday did not start any better for Mount Pulaski. St. Thomas handed the Lady Toppers a quick loss, 25-22 and 25-10; then Springfield Lutheran outlasted the purple and gold 25-13, 22-25 and 25-19.

Finally, the Lady Toppers picked up a tournament win in their last contest of the day, defeating Effingham 25-27, 25-21 and 25-23.

On the Lincoln side of volleyball Saturday, it was Riverton defeating the Lady Railers 24-26, 28-26 and 25-19 to start the day. Lincoln did pick up their only win of the tournament over Effingham Saturday afternoon, 25-21 and 27-25.

In the Copper Division final Saturday evening Springfield Lutheran defeated Lincoln 25-19, 21-25 and 25-20.

The overall winner of the 2016 Mount Pulaski Fall Festival was Eureka.

Lincolnís overall record sits at 9 wins and 9 losses.
According to Lincoln Head Coach Kyle Caldwell, his team leaders for the tournament were: Brooklynn Elsas - 40 kills, Emma O'Donoghue - 73 assists, Kennedy Lolling - 59 digs, Lauren Block - 6 blocks and Grace Bossingham - 7 aces.

While both teams would have liked to have gone better than a 1-4 record over the weekend, Lincolnís Coach Caldwell saw the positive side. "This tournament was very strong and let us see exactly what we need to improve on to be the best we can be in post season. We are battling some injuries right now, so everyone played a big part. While it's always frustrating to lose, it helped us identify our weaknesses and we'll be better because of it in the long run,Ē said the Lady Railer coach.

Lincoln will play this Tuesday at Decatur MacArthur and next Tuesday at home vs Jacksonville, which will be teacher appreciation night.

Mount Pulaski falls to 4-7 on the season and will host Hartsburg-Emden Thursday night, which is also Homecoming for Mount Pulaski High School.

Tournament Stats for Mount Pulaski

Kenzie Lock 20 digs 4 aces
Abigail Fitzpatrick 26 kills 98 digs 4 aces
Alex Clemons 4 kills 8 digs 1 ace 1 block
Alexandra Beckers 30 kills 52 digs 78 assists 2 aces 1 block
Morgan May 6 kills 44 digs 1 ace
Paige Stewart 6 kills 2 blocks
Skylar Hayes 48 kills 66 digs 1 ace
Isabella Wade 14 digs 38 assists 1 ace

[Teena Lowery]