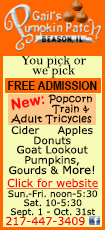 The class meets before school hours off-campus, preferably in a business location. Students dress and prepare as though they are going to work rather than to attend class, and typically stay dressed that way for the rest of the school day.

Program facilitator Jason Mauhar too is entering his second year with the unique high school program.

Asked what he learned from last year, he says, "Iím not sure I can cover all that I have learned here, but Iíll give you the highlights."

What follows is a collection of observances from the facilitator's seat.

What are the target goals for the class/students this year?

Mauhar said that a top priority is for the students to meet in businesses all year. The goal is to have students tour 50 businesses, have 50 speakers, and have many guests come to class and see the students at work. The business contacts aid the students to network and build relationships.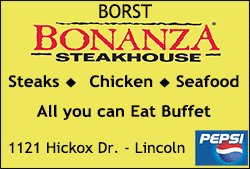 Another set of goals are for the students to complete a lanyard business (name badge), a group business, and an individual business.

The students will need to complete a trade show for the community where they will showcase their individual businesses.

The students need to develop skills like problem solving and business etiquette, along with being able to produce quality business plans.

What was Mauhar's favorite part of leading the inaugural 2015/16 class and what does he look forward to most this coming school year?

"I think the best part of CEO last year, and I expect it this year, will be the student transformation. They come in high school students and they leave with the knowledge and ability like young professionals.

He said that it has been an awesome experience "and Iím humbled to be a part of the program."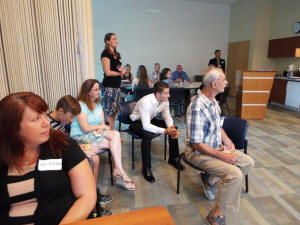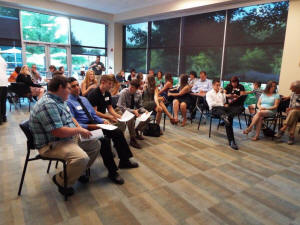 At the program kick-off most students began by sitting with the parents. As the evening progressed toward the time when they would hear about the plans for the upcoming year, the students began to gravitate toward each other; the first networking as a team was already in play.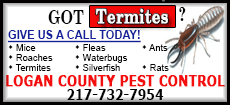 What did Mauhar learn from the first year, and what potential strengths do these youth bring to our community?

"As a facilitator I have more experience now to help direct the students to places where they can be active learners, he said.

He made the following observations and prioritized goals:
Students have so much ability and potential when we push them to use it.
Learning to be successful at ďlifeĒ is one of the best ways to be successful in business: ex. valuing others, honesty, integrity, listening.
Listen to our youth, they have a lot of insight and are really great at solving problems and addressing challenges of an adult life.
Team build all year long with the students; "something I think should be done at all businesses."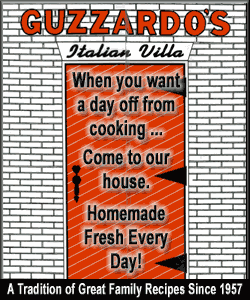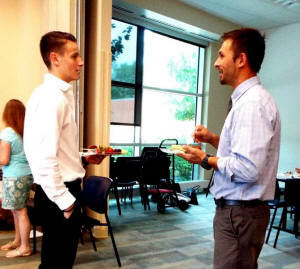 New students met their facilitator Jason Mauhar, right, at the kick-off meeting on Aug. 2 and began building an important relationship.

What changes might be made to the program as the LLCEO program shifts into its second year and beyond?

"With the program numbers going up we will be looking at possibly using different base locations for each nine weeks.

"We are always adding new businesses to visit and speakers to come by and share their time with the class.

"With the CEO program expanding across central Illinois, we also have some opportunities to work with groups like the Small Business Administration (SBA) and SCORE. You can Google either for further information.

How might the program be improved in the future?

One advancement on the program would be to create dual credit for college. "These students at the end of the course will have many experiences and abilities that many college students wonít have till after college, and in some cases not at all."
What can the business community do to aid the program?
- Get on the LLCEO website and the Midland Institute website and see what this program is about, and why we have it.
www.midlandinstitute.com www.llceo.com

- Talk to a CEO board member about becoming an investor. They are listed on the CEO website.
- Share the program with others, and be on the lookout for the trade show, which will happen around the end of April /beginning of May.

"We want as many people as possible to come to the trade show," Mauhar says.

What would you like to see happen for these youth in the future?

"I would like them to take the tools that they have acquired and the relationships/connections that they have developed and go make others lives better. I believe that is what CEO is all about.

"I want them to see that they can be successful in a community like Logan County and come back and start their business or work here," said Mauhar.

[Jan Youngquist]