Homecoming 2016: Expectations And Excitement
Send a link to a friend Share
[September 23, 2016] By Benjamin Yount

LINCOLN – There was something different about the Lincoln Railsplitters after Thursday's football practice.

The team took a knee to get their usual pre-game pep talk. The Splitters ate the same meal they've eaten for years. The varsity players emitted the same funk you'd expect from three dozen sweaty teenagers who haven't washed their uniforms in four weeks.

But for the first time all season the team was excited. Not nervous. Not anxious. Excited.

"This is definitely a winnable game," senior quarterback Andrew Yount said.

"It would mean a lot. To break the losing streak we've had," senior defensive end Zach Montcalm added. "This is our best chance to get a win."

After back to back games against the best teams in downstate Illinois. (Sacred Heart Griffin is ranked number 1 in 6A, and Rochester is ranked 2nd in 4A.) Lincoln is taking on another winless team.

The Railers host Decatur MacArthur Friday night.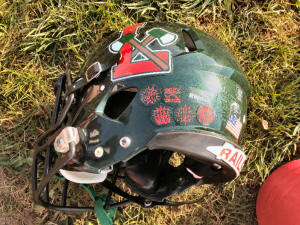 "We've played the four toughest teams on our schedule," Lincoln coach Matt Silkowski said Thursday. "We're telling our guys to learn from what it was like in those first four games."

Lincoln didn't win any of its first four games. But did improve.

The defense is light years better than last year.

Montcalm said they are going to have to continue that this week if the Railers are going to get their first win.

[to top of second column]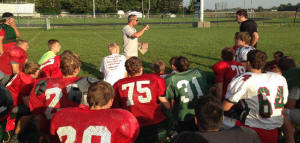 "MacArthur's quarterback wants to run the ball. He wants to get outside," Montcalm said. "We're going to have to make sure we seal the outside. We can't let him get by."

Silkowski said Lincoln will have to contain MacArthur's athletes on defense, and unleash their own athletes on offense.

"We're going to a lot more on offense that people have seen from us," Silkowski said without offering any details.

Yount, the quarterback, said the game plan for MacArthur is to get the ball to the Railer playmakers, including Titus Cannon and Isiah Bowers.

"The offense is going to be a lot different," Yount said the new game plan will be 'high caliber.'

But the success depends in Lincoln's offensive line.

Senior center Jacob Berglin is back, and Silkowski said if Lincoln can move the ball the team can come away with a win.

"A win would be big for everone. For the kids this year. For the program looking ahead," Silkowski said.

Yount said a win would also be huge for Lincoln as a community.

"Right now we're 0-32," Yount noted. Lincoln's varsity team has won a game since 2012. "To break a 32 game losing streak would be great."

Kickoff is 7 p.m. at Handlin Field.