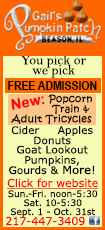 Most collectors start with small items. Not so with Tracey Rawlings. Her collecting of the iconic red Coke items began in 1990 when her brother-in-law was tasked with demolishing a building at the Illinois State Fair grounds. He informed her that he had uncovered an old Coke machine in the building. He asked her if she wanted it. "I said yes, and it turned out to be a rare 1939 machine," she said. That started Rawlings' collection.

Since that first machine, she has collected six others.

Where are they found?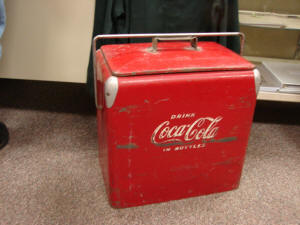 "I found one at the John Deere store in New Holland. Others came from attics and other storage areas. They are from the 1940s to 1950s," she said.
Generally they were free, but one she had to have is a very rare machine that was found in Elkhart. "I had to have it, so I paid for it," she laughed.

Do you remember Coke machines that dispensed the bottles that were chilled by cold water in a big red tub-like machine? She has one. Do you remember the old Coke machine that required the bottles to be moved through slots to a final dispensing position? She has one.

Tracey's collection is filled with all manner of Coke memorabilia. Her oldest item is a 1916 Coke tray.

"Trays can be valuable if they are in good condition, and if they have the date of the tray on it. The design of the tray indicates when it was manufactured," she said.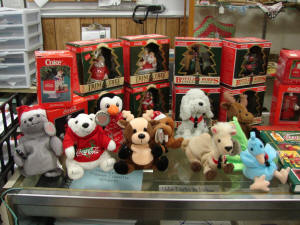 Scattered around Rawlings' house are beanie babies from different countries in Coke outfits. She also has Coke Christmas tree ornaments that were sold by Sears and Montgomery Ward. "I have the original box for all of the ornaments and beanie babies. The box makes the items more valuable," she said.

Adding to her collection are Coke cans from China, Japan, Denmark, the Netherlands, Sweden, and other countries from around the world.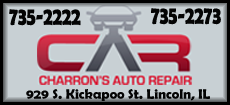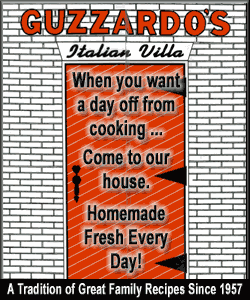 She has more than 400 bottles at home. Some are even from the Coke bottler in Lincoln that was located near the present location of the new Grand 8 Theater. That was Vaughn's Bottler. Small towns all over the country had their own Coke bottler.
LCGHS charter member Judy Lumpp said that her father was a soda distributor and used Vaughn's products. The small town bottlers have been replaced with huge regional bottling plants.

Tracey brought a small sample of her extensive collection to the LCGHS meeting. She mentioned items that grace her living room and back porch. She has Coke sheets, a Coke afghan, a comforter, wooden crates, metal carriers, many Coke coolers that do double duty as storage containers for other Coke objects. And one Coke thermometer with a glass cover. Later ones had plastic covers.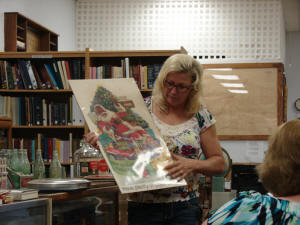 Tracey shows a rare Coke Christmas poster.

Everything is cataloged and insured through her homeowners' policy.

One item she does not have is an old Coke sign showing a policeman holding a stop sign. She is on the look-out for that one.

One question that was on everyone's mind at her presentation was whether Tracey drank Coke.

"I don't drink soda because it is too sweet for me. No, I don't drink Coke," she laughed.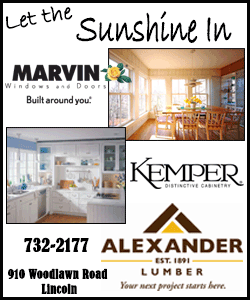 This brought on a Coke versus Pepsi debate in the audience and a lot of laughter.

The Logan County Genealogical and Historical Society meets on the third Monday of the month at 6:30 p.m. in their research facility at 114 North Chicago Street, and always has an interesting presentation. The public is welcome to attend.

Carol Farmer, LCGHS program chair, is always looking for interesting speakers who have something unique to offer. If you want to make a historical presentation, contact her at 217-732-3200.

[Curtis Fox]