Edward Baughman Sentenced to 3 Years Prison for Domestic Battery

Send a link to a friend Share
[March 31, 2017] On March 21, 2017, Associate Judge William Workman accepted a fully negotiated plea agreement which sentenced Edward Baughman to 3 years in the Illinois Department of Corrections for the offense of Domestic Battery, a Class 2 Felony.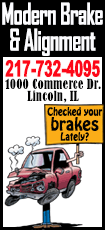 On December 26, 2016, Logan County Sheriff's Deputies responded to a call regarding an automobile crash. During the course of the investigation, Deputies learned that Stephanie Renfro was a passenger in the crashed vehicle driven by Edward Baughman. Ms. Renfro informed the Sheriff's Department that Baughman, her boyfriend, had struck her while she was riding in the vehicle driven by him.

Domestic Battery is typically a class A misdemeanor. The offense can be elevated to a felony based on certain factors. In this case, the offense was elevated to a class 2 felony based on Baughman being previously convicted of Domestic Battery on four prior occasions. The period of Mandatory Supervised Release (formerly known as parole) is also extended from 2 years to 4 years based upon a felony domestic battery conviction.
[Jonathan C. Wright
Logan County State's Attorney]