Warriors rally past Rockets
Send a link to a friend Share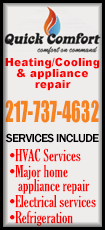 [April 01, 2017] OAKLAND, Calif. -- James Harden came within two assists of his 21st triple-double of the season Friday night.

But when all was said and done, he and the Houston Rockets came up nine points short of a 52nd win, and that's all that mattered to the Golden State Warriors.

The Warriors turned the defensive screws on Harden and the Rockets in the fourth quarter, using a 12-0 run to erase a four-point deficit en route to a 107-98 victory.

"That was kinda a weird way to end the game," Curry said of a 19-6 finish in the final 9:40 that featured Golden State's defense at its best. "Usually when you play like that, the ball tends to bounce your way."

In a battle of clubs that already clinched playoff spots, the Warriors posted a 10th straight win thanks mainly to a late 12-0 run that featured 10 points from their reserves.

The win allowed Golden State (62-14) to complete a 3-0, four-day demolition of the Rockets (twice) and San Antonio, keeping the Warriors 3 1/2 games up on the Spurs (58-17) in the race for top seed in the upcoming Western Conference playoffs.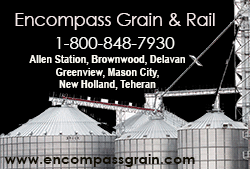 "When you play top teams like that, you want to leave a good memory," Curry said. "This was a good test for us. Obviously, good times, but you want to keep pushing."
The Rockets (51-25), meanwhile, dropped a half-game closer to Utah (46-29) in their duel for the No. 3 seed in the West.

They missed 25 of their 37 3-point attempts and lost a third straight.

"They got more intense," Rockets coach Mike D'Antoni said of the Warriors. "They stripped us a lot of times and blocked shots at the rim. We just didn't have a nice offense, and they got us."

After four consecutive points by Lou Williams and a 3-pointer from Sam Dekker, the Rockets led 92-88 with 9:40 to go.

But Houston didn't score again until Harden buried a 3-pointer with 2:41 left, by which point Golden State had erased the deficit and built a 100-92 lead.

Harden, who led the Rockets with 17 points despite being harassed into 4-for-18 shooting, was the focus of a Golden State defense that blocked 14 shots and held the opponent below 100 points for the seventh time in the last nine games.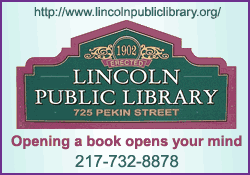 The Warriors threw a variety of defenders at Harden, including power forward Draymond Green.
"Draymond, his shooting is going to come and go," Warriors coach Steve Kerr said of his All-Star's 2-of-11, six-point game. "But his defense is what makes him who he is. I think he's the best defensive player in the league."

Harden nonetheless managed 12 rebounds and a game-high-tying eight assists to go with his 17 points.

[to top of second column]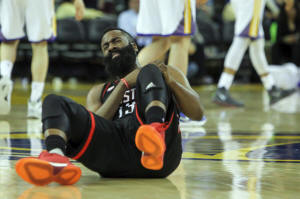 Rockets guard James Harden (13) is injured during the third quarter against the Golden State Warriors at Oracle Arena. The Warriors defeated the Rockets 107-98. Mandatory Credit: Sergio Estrada-USA TODAY Sports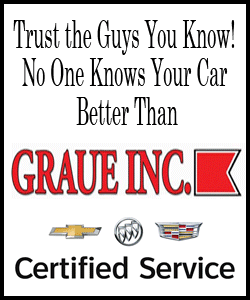 Shaun Livingston had five points, fellow reserve Ian Clark a 3-pointer and super-sub Andre Iguodala a layup during the critical run that helped the Warriors claim the season series 3-1 from the Rockets.

Houston missed nine straight shots, including five 3-point attempts, and mixed in three turnovers during their drought.

"Just a bad game," Harden said. "It's frustrating, but it's happened before. We had a couple of opportunities. We just didn't make shots, and they had a couple of big shots. We had plenty of opportunities."

Curry had a game-high 24 points to lead the Warriors, who had beaten the Rockets 113-106 in Houston on Tuesday night.

Klay Thompson chipped in with 20 points and a team-high eight rebounds for Golden State, which got 49 points from its bench, led by Iguodala with 14 and JaVale McGee with 13 to complement five blocks.

Eric Gordon and Trevor Ariza added 15 points apiece and Clint Capela pulled a game-high 14 rebounds for the Rockets, who had been beaten 117-107 in Portland on Thursday night.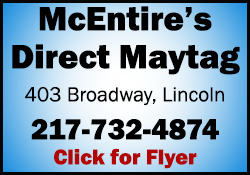 The Rockets finished 12 of 37 from 3-point range, with Harden and Ariza going 2 of 9 apiece.
The Warriors weren't much better, hitting 11 of 32 despite a combined 8 of 18 from Curry and Thompson.

NOTES: The Warriors ran their record to 13-0 this season when facing a team that had played the night before. ... The Rockets, meanwhile, lost for only the second time in 15 tries on the second night of a back-to-back. ... The Warriors improved to 12-5 with SF Kevin Durant (sprained knee) out of the lineup. ... Houston played a fourth consecutive game without PF Ryan Anderson (sprained right ankle). ... The Rockets welcomed back reserve big man Montrezl Harrell, who had missed the previous two games while attending the birth of his child. He had 11 points off the bench in 22 minutes.
[© 2017 Thomson Reuters. All rights reserved.]
Copyright 2017 Reuters. All rights reserved. This material may not be published, broadcast, rewritten or redistributed.