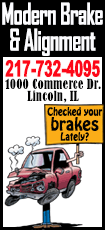 Campbell, a longtime professor at Lincoln College, has been the driving force behind the creation of Creekside. In February, the Lincoln College Board of Trustees approved a resolution renaming the Center in his honor.

"It is not only appropriate that the Creekside Center be named in honor of Dr. Campbell, but it is especially appropriate that we have scheduled the renaming ceremony for Earth Day," Lincoln College President Dr. David Gerlach said. "From the initial planning of the Gossett Tall Grass Prairie in 2009, Dr. Campbell has worked tirelessly with the community, Lincoln Rotarians, students, faculty, staff and others to construct the buildings and create the boardwalk, trails and other features which allow students and the community to gain a better understanding and appreciation of the environment and its importance to all of us."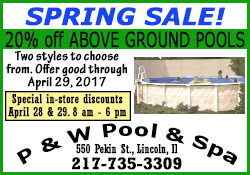 The Earth Day celebration is scheduled to begin at 10 a.m. on Saturday, April 22, with opening remarks and a brief ceremony to highlight the renaming of the Center as the Dr. G. Dennis Campbell Creekside Outdoor Center for Environmental Education at Lincoln College.

There will be a variety of activities available throughout the day, until 4 p.m., including a free native plant giveaway, guided nature walks to Sugar Creek, children's story time in the forest, games and crafts, music by Lincoln College students and faculty, local craft vendors and tables displaying rocks, fossils and artifacts.

There will also be interpretive walks to the site where "Judd," the Lincoln College Woolly Mammoth was discovered, a "science of ice cream making" demonstration with free tasting and the chance to participate in a pollination habitat initiative and native plantings.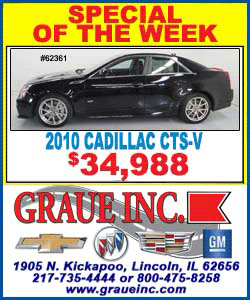 The Earth Day event will also provide an opportunity to introduce the Peoples of the Past Boardwalk Project. This will be an accessible interpretive trail that will transport visitors hundreds of years into the past. As persons walk along the boardwalk, they will also walk back in time from the present.

The first phase of the project is about 800 feet and will cover 800 years of history, showcasing pioneer and Kickapoo and Mississippian Native American cultures. Time travelers along the boardwalk will encounter life-size, three-dimensional exhibits of previous ways of life in central Illinois, including small gardens, shelters and household items representing each of the three time periods.

Over the coming years, the timeline will be extended further back into time and may ultimately reach back 8,000 years.

Creekside is located along Sugar Creek, about five miles north of Lincoln at 1234 County Road 2000N. Directions: From I-55 take exit 133 toward Lincoln. Turn left onto North Lincoln Parkway and travel three miles. Turn right on 1250th Ave. (Nicholson Road) and travel 3.1 miles (passing over I-55, past the Epperson Subdivision and over Kickapoo Creek) Turn left on 2000th St. (the second left after Kickapoo Creek) and travel about half a mile. Turn right onto the gravel road marked Small-Edwards Trace that leads to Creekside.
[Mark Gordon
Public Relations and Media Manager
Lincoln College]