Elaine Aue presents Stacy Peacock with a check from Culver's
Send a link to a friend Share
[April 17, 2017] LINCOLN - On Tuesday evening, Elaine Aue of Culver's presented Stacy Peacock a check following a fundraiser held in her honor on Saturday.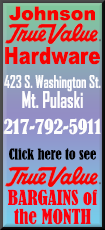 The two women met at the restaurant and Aue presented Peacock with a check in the amount of $10,912.41.

Peacock was so surprised all she could keep repeating was, "Thank you. This is amazing."

This dollar amount was reached because of the special all-day Culver's Day held for Peacock on Saturday, April 8, 2017. Aue said the amount was possible with sales, donations and time donated by her employees.
The two ladies engaged in conversation after the presentation of the check. Common bonds included Peacock's previous restaurant experience as a server at Cracker Barrel for 17 years, and Aue shared with Peacock that her daughter, Kristan, is a nurse. Peacock has also been a hospice nurse serving Logan County.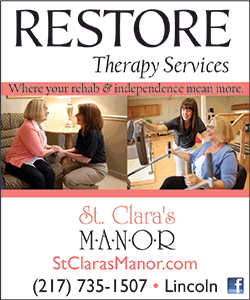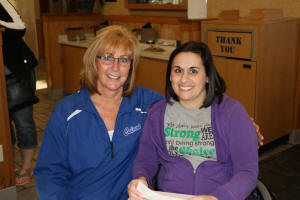 Elaine Aue (left) and Stacy Peacock

Peacock mentioned the money would help a lot with the extra expenses the family has incurred remodeling living quarters in order to make everything wheelchair accessible.
Many heartfelt thanks go out to the community for supporting this young woman.

[Teena Lowery]