Art lovers appetites satisfied by 'Palettes Gone Wild'
Send a link to a friend Share
[April 18, 2017] LINCOLN - Thursday evening brought beautiful weather and a large crowd to downtown Lincoln for the latest art show opening at the Lincoln Art Institute. Entitled "Palettes Gone Wild," artists were called upon to dig deep into their creative energy and come up with whatever painting, sculpture, poetry, or social comment showed up. The audience for this show was delighted by the results.
In one of the most diverse exhibits ever at the LAI, a person could see a unique three-dimensional creation of a downtown street, a table modeled after a bridge in South America, social commentary and art about carbon emissions, photography turned into paintings, ceramics, paintings expressing deeply felt religious convictions, and sculpture created from many materials.

The Lincoln Art Institute and Logan County Arts have become a magnet for some of the most creative and talented artists in central Illinois. That can be seen month after month in the themed shows in the gallery. It can also be noted in the increasing number of people attending the shows. The gallery is filled with great art, enthusiastic audiences, music, and a wonderful table of appetizers created by the artists. While cruising through the show with his wife Kaitlin, Jeremiah Ratliff was heard to remark "while the appetizers are good, the art is the main course." Jeremiah and Kaitlin could not resist the talent on display. They purchased a painting of the Logan County Courthouse dome by Nancy Saul.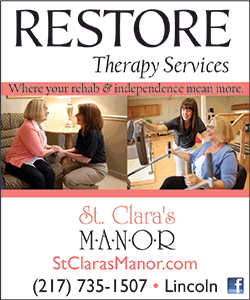 "Palettes Gone Wild" will continue its run at the Lincoln Art Institute through the rest of the month. Contact Moses Pinkerton at 217-651-8355 to arrange a visit to the gallery. While visiting the square in downtown Lincoln, you can also stop at Spirited Republic for a micro brew, Beans and Such for coffee and pastries, and Flossie and Delzina's, Deep Roots and The Arcade for lunch. These are only a few of the shopping and dining sites that grace a vibrant downtown Lincoln.

[Curtis Fox]