Quilting events draw 100 participants from all over the state

Send a link to a friend Share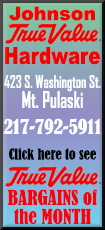 [April 24, 2017] LINCOLN - Fifty-one quilters from all around Illinois attended a quilting workshop Friday, April 21, 2017. The event and next day meeting were held at Jefferson Street Christian Church.

Penny Haren of Ohio taught the workshop.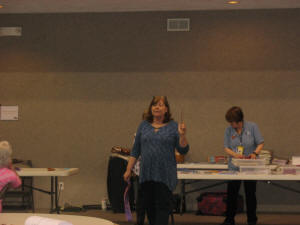 Haren has been a quilter for 30 years, and owns a quilting shop. Her biography says "Haren has been developing and teaching techniques that make it quick, easy and fun for quilters — even beginners — to create heirloom quality quilts with stunning results." Haren is a member of Creative Grids® team whose work includes developing rulers to help quilters "achieve perfect piecing with ease," which she calls " her favorite part of the job! "

Haren has also written several books on her technique, Pieced Appliqué™ "which eliminates y-seams, inset points and curves from even the most complicated blocks."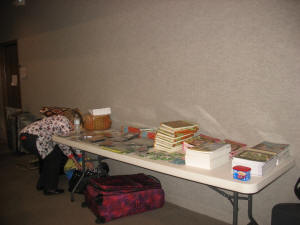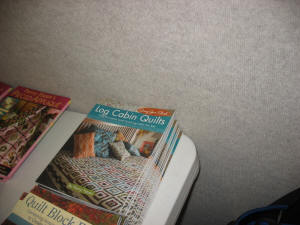 (8750, 8787)

These are intended to make quilting easier. She also writes a newsletter for Checker Distributors and a column for Fab Shop.
At the workshop, quilters learned tips to quickly put together blocks "so beginners to experts can sew them in a matter of minutes."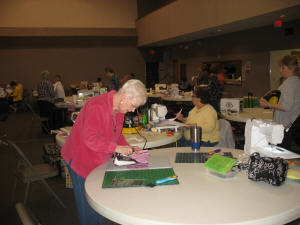 Demo rulers helped them with cutting the fabric and they were able to sew twelve sample blocks to take home.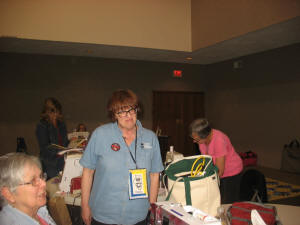 Checker Distributors representative Stacie Wachtel said Creative grid makes 116 different rulers that are no-slip, so they keep the fabric in place, making it simpler to cut.

The sewing machines used for quilting range from a few hundred to several thousand dollars.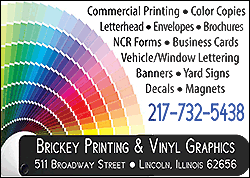 Some machines even have flash drives with the patterns on them.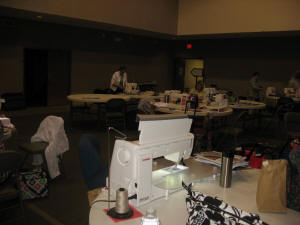 One quilter call the top-of-the line Janome machine the Cadillac of machines.

At the end of the day, quilters had sewn twelve blocks.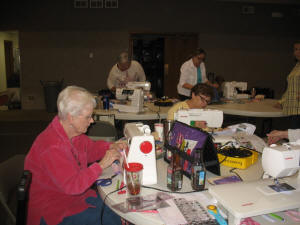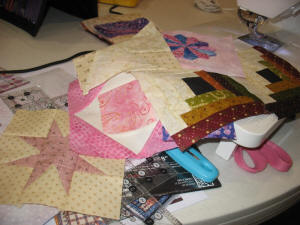 [to top of second column]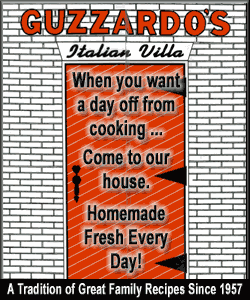 On Saturday, 100 members of the Land of Lincoln Quilters Association attended a quilting meeting.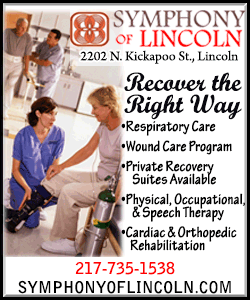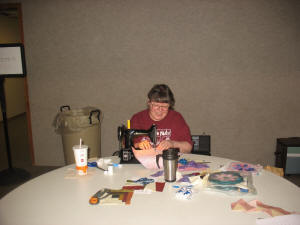 Sue Bidwell of Lincoln said the quilter's group meets four times a year in various parts of the state.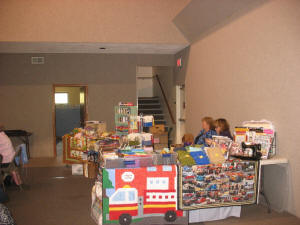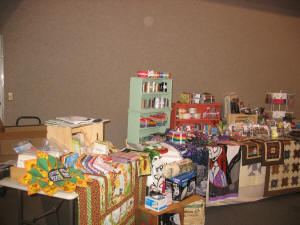 The owner of the "Make It Sew" shop also had a table with some of the shop's fabrics.

At the meeting, Haren said she had found a better way to reorganize her fabric stash by cutting strips and putting them in drawers and putting fabric in bundles.
As the meeting drew to a close, Haren showed quilts she had done using several different techniques. Haren said it takes her anywhere from four to twelve hours to make the quilts which range from simple to very complex designs. Quilts included log cabin quilts, crazy quilts, square on square, and ones with various patterns.