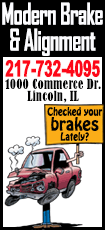 Throughout the morning, the five 4-Hers participating in the dairy show stayed moving, bringing in their Junior and Senior Heifer Calves, and Junior and Senior Yearlings, and Cows, grouped off according to breed. With the morning show about the female dairy cows, it was only fitting that four out of five of the exhibitors were females as well. Participants included sister team Dawn and Sarah Irwin, Laura Rankin, Charlotte Toohill, and the only guy in the show – Walker Allen.

Breeds included in this year's show were Holstein, Guernsey, and Milking Shorthorn. In the end, the Irwin sisters made a clean sweep of the show with Dawn winning Grand Champion Heifer overall breeds and Sarah taking Grand Champion Cow overall breeds. Sarah also took the 4-H Showmanship award.
While the dairy show was going on in the east side of the Livestock Show Barn, the Swine Show was underway on the west end. The show began with the Gilt Show. In the swine show, there were perhaps fewer exhibitors than a few years ago, but it was still a large show with many of the 4-Hers showing multiple animals in multiple classes.

In the end, the Grand Champion Gilt went to Reagen Tibbs with Reserve Grand Champion going to Landon Smith. Another entry from Landon earned third place overall, with Palmer Scheets taking fourth overall and Ryan Fruge coming in with fifth overall.

In the Market Hogs competition the Grand Champion Barrow went to Ella Bobell. Ella was awarded the Don Crane Memorial Traveling Trophy. She will have the trophy for the next year, and her name will be added to the standing record of recipients noted on the base of the massive award. The trophy was presented to Ella by Linda Crane and her grandson Aiden.
At the end of the show, the swine judge, Jonas McGrew addressed the audience talking about the integrity of the young people he sees at the Logan County fair, and complementing them on their hard work and dedication to the livestock shows.

McGrew is a judge of international proportions, he is a graduate of Blackburn College in Iowa and travels the country and even globally judging livestock.

Wednesday morning was also the first day on the job for the new 2017 Miss Logan County Fair Queen, Junior Miss Logan County and Little Miss Logan County. Little Miss Eliana Park was the first one to be spotted in the barn. Miss Logan County Fair Queen Meg Meeker arrived soon after and enjoyed handing out ribbons at the dairy show. She along with Little Miss Eli, and Junior Miss Karson Mott were all three in the ring with the livestock during the barrow show, and all three enjoyed handing out ribbons and plaques to barrow class winners.

All three were on hand to congratulate Bobell in her grand championship and pose for a picture of the young lady and her barrow.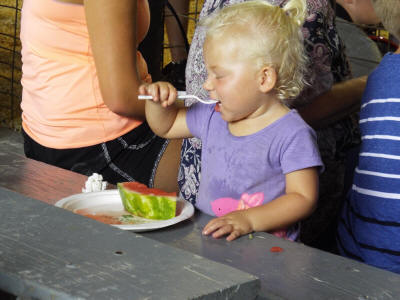 On the north end of the Logan County Fairgrounds, many look forward to Watermelon Wednesday as Farm Credit Services sets up a tent and serves up big think-cut slices free of charge to anyone interested.

Final results for the Barrow Show included Reserve Grand Champion going to Lukas Aylesworth with Reagan Tibbs taking third overall. Landon Smith took home fourth overall and Clay Aylesworth won fifth overall.

[Nila Smith]