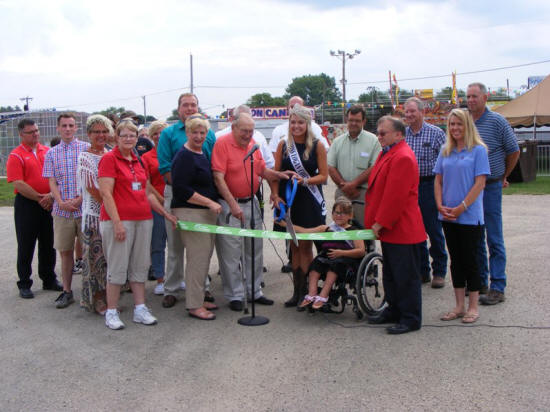 Fair Board and Chamber mark traditional first day of the Logan County Fair
Day begins with ribbon cut, Kiddie Tractor Pulls, and 4-H Rabbit, Poultry, and Water Fowl shows

Send a link to a friend Share
[August 02, 2017] Though for the past few years, the fair has technically started on Sunday to accommodate the Downstate Classic Harness Racing, for many years, the first day of the Logan County Fair began on a Tuesday.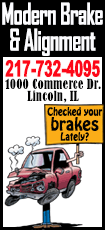 Holding to that tradition, the Logan County Fair Board and the Lincoln/Logan County Chamber of Commerce co-hosted the annual ribbon cut at the Main Gate at 9 a.m. on Tuesday morning.

Those in attendance for the ribbon cut included fair board members including long standing board president Dean Bruns, 2016 Miss Logan County Fair Queen Michelle Paulus and 2016 Little Miss Logan County, Paisley Baker. The Chamber was represented by President Cathy Wilhite along with several members of the Chamber Ambassadors. Also on hand for the cut was the new director of the University of Illinois Extension Unit 16, Terri Miller.

When it came time to snip the ribbon, Queen Michelle and Miss Paisley joined Bruns in doing the honors.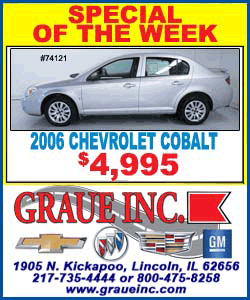 Tuesday was also a busy day for youngsters at the fair, beginning with the Kiddie Tractor Pulls hosted by the Logan County Farm Bureau Young Leaders and held in the beer tent at the south side of the fairground. Eli Klockenga, Abby Coers, and Deana Brooks hosted the event with help from others involved in the Young Leaders. Also on hand was Jim Drew, the director of the Logan County Farm Bureau.

The Kiddie Tractor Pull is a growing event, as was noted by the hosts. In 2016 there were 36 children participated in the event. This year, 50 children participated with three classes available according to weight. The majority of the children peddle pulled in the 0 to 45-pound class and the 46 to 64-pound class.

Each child received a green participation ribbon and trophies were handed out to the first and second place finishers in each class.
Meanwhile, on the north end of the fairground, young 4-H members were busy showing their rabbits, poultry, and water fowl in the livestock exhibit barn. The 4-H shows would go on into the afternoon with the 4-H Goat Show taking place at 2 p.m.
In the poultry and water fowl exhibits, Reed Naughton took the Champion Water Fowl Award.

The Champion Chicken and Champion Pullet went to A.J. DeCaro. Reed Naughton took the Champion Cockerel and Shelby Heyen won the Champion Meat Pen.

This year there were two awards given in memory of Maxine Maxheimer in the poulty judging. The Maxine Maxheimer Memorial Children Award for the Champion Chicken was given to the Champion Cockerel. The trophy presentation was made by Maxine's grandson Tanner Stramp.

In the Rabbit show, Landon Behrens took Champion Rabbit with Will Stambaugh taking Reserve.

Best of All 6 Class Breeds, Best of all 4 Class Breeds and Best Opposite of Sex all other 4 Class Breeds went to Will Staumbaugh. Behrens took Best Opposite of sex all other 6 Class Breeds, and Champion Meat Pen. Abigail Goodman took Reserve Champion Meat Pen.

In the Showmanship Classes, the Junior Showmanship went to Williams Simonton and Senior Showmanship went to Nancy Morrical.

All participants in the rabbit shows earned Blue Awards.

[Nila Smith]