Beef Steer Show, low in numbers, high in quality

Send a link to a friend Share
[August 04, 2017] On Thursday morning, the last of the 4-H livestock shows for this year's Logan County Fair were held in two locations on the north end of the fairgrounds. While the Beef Show was going on in the main show barn, the 4-H, Junior, and Open Sheep Shows were taking place in the sheep barn arena.
At the Beef Show this year, once again numbers were down a bit compared to a few years ago, but there was no lack of quality as Judge Dillion Lemenager spent more than a fair amount of time examining each animal.

Within the breeds and weight classes, most classes consisted of two and sometimes three entrants. In the first breed class of the day, Angus, there was only one entrant for each weight. To expedite the judging, all three animals were brought in at once, they were scored and received ribbons, and the champion of breed was determined with just one show of the animal.

During the show, Miss Logan County Fair Queen Meg Meeker was on hand to help present ribbons and to share in a photo op of the Grand and Reserve Champions at the end of the show.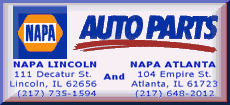 Queen Meg is a Logan County native, hailing from rural Emden. Her parents are Bob and Diane Meeker. The Meeker family is heavily involved in swine production on their family farm. Meg has now aged out of 4-H, but when she was an active member she showed animals in the 4-H swine shows, and often faired very well in those competitions.
On Thursday she noted that in her past history with the livestock shows, much of her attention had been focused on the swine shows. However, she said she enjoyed watching the cattle shows, and was pleased to be able to be on hand to congratulate each one on their efforts.

At the end of the day, as was the case on Wednesday at the dairy show, the lady 4-Hers dominated.

A very young and very excited Aidyn Barber took Overall Grand Champion with her Herford Steer. She enjoyed setting up for the cameras in front of the green curtain at the end of the barn. She was joined for the picture by her parents and her sister who helped hold all the ribbons and plaques for the picture. Judge Lemenager and Queen Meg also joined in for the photo.

The Reserve Champion went to Ashlyn Hickey.

[Nila Smith]