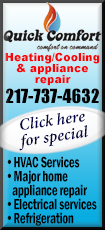 On Thursday morning the barn furthest northwest of the Logan County Fairgrounds was a flurry of activity. From 8 a.m. to noon, the 4-H and Junior Sheep Shows were conducted in the center ring.

Cody Zeeck of Havana performed as judge this day. It had been a couple of years since Zeeck judged the Logan County Sheep Show.

Through out the morning, Zeeck said time and again what a pleasure it was to be in Logan County because of how impressed he is with the work of the youth here, their commitment to quality performance and sheep.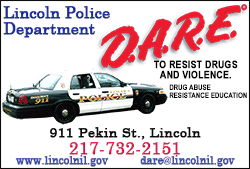 The John and Annie Coers family, and their extended family, once again served as superintendent and assistants. Each year when the hard work of the opening levels of showing are over, the family likes to make it a little more fun by way of jazzing it up. This year they jacked up the energy with music and a few surprises.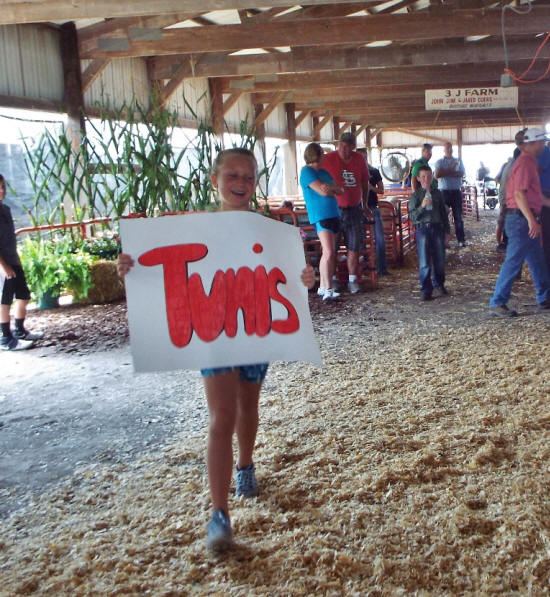 As zippy popular music and a few traditional champion tunes blasted, youth flashed through the ring carrying boldly colored signs introducing each breed - Southdown - Hampshire - Corriedale - Montadale - Tunis - urging the audience cheers and whistles for the returning champions and their final big judging and awards. During the musical interludes, toes set to tapping and Queen Meeker, Junior Miss Mott and Little Miss Park spontaneously broke into dance for a moment.
As the various groups of sheep and handlers returned to the ring for championship titles, including Junior and Senior Showmanship, the crowd cheered them on.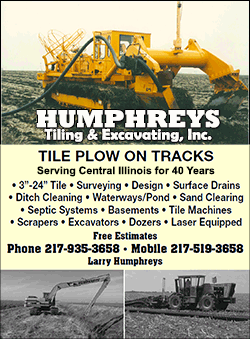 Following the last of the awards, the special surprise event of the day took place: the Alumni Sheep Showing competition. The sheep already present for the day were borrowed for anyone who had past experience and wanted in the ring.

A little more than two dozen competitors entered the ring with hopes of claiming one last title, Alumni Master Showman. Families of two and three generations, and long-time friends went toe to toe. Every one single one had twinkle in their eye, the desire to win and had not lost their touch to perform, even with an unfamiliar animal at their hand. Every one of the competitors looked hungry to be the Best Alumni Sheep Showman.

Judge of the day, Cody Zeeck was happy to do the honors. Following a brief descriptor of one who had a stellar long experience showing at the fair, which in some respects could have been just about any one of the participants in that ring, he played the highly stoked crowd and participants keeping everyone guessing in his approach to shake the hand of the winner, before turning suddenly to Dara Entwistle. The surprise from son Cole Baker, who was only one sheep away, could not be contained.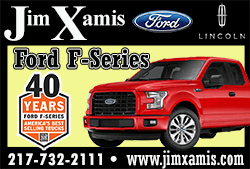 All serious and professional in demeanor up to pronouncement for the winner, the delight of all who participated was evidenced in lots of hoots and laughter.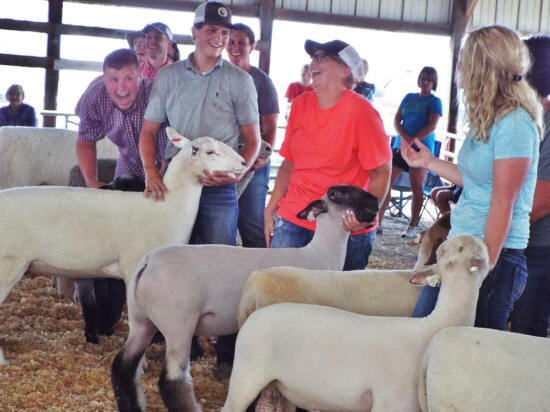 Dara was born into a Logan County farm family attending every fair since the year she was born. She married into a farm family, and has raised three boys at the fair. She 's been a competitor and continued on as an event coordinator. The fair is in her and in all of her years.

The camaraderie continued following the alumni event when for the second year, a 4-H lunch coordinated by the Steve and Pam Schreiner family was served. Smoked brats processed by Bloomington Meats were featured and enjoyed by all.

[Jan Youngquist]