Cubs may have suffered two losses against Giants
Send a link to a friend Share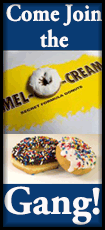 [August 10, 2017] SAN FRANCISCO -- It was bad enough for the Chicago Cubs that they left AT&T Park having lost twice in a three-game series in the wake of the San Francisco Giants posting a 3-1 win Wednesday afternoon.

To leave town fearing they've lost cleanup hitter Willson Contreras to a hamstring injury could put a far more serious crimp in Chicago's postseason hopes than the two losses.

Contreras came up limping running to first base while making the final out of the eighth inning.

"He's a DL candidate," Cubs manager Joe Maddon said. "We'll have to wait and see. That's no fun. Apparently he pulled a hamstring. Maybe we'll get lucky and it's just a bad cramp."

The Cubs flew after the game to Arizona for a series that starts Friday. On Thursday, Contreras, who has 21 homers and 70 RBIs and who was the National League Player of the Week last week, will have an MRI to determine the scope of the injury.

"He's been carrying us," starting pitcher Kyle Hendricks said. "It's definitely a blow, not good. It gets quiet in the dugout. You feel bad for him, a guy who works so hard."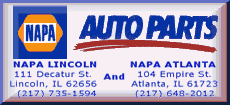 The Giants were on the other end of the injury equation. Madison Bumgarner, who spent three months on the disabled list with a left shoulder sprain, was back and as filthy as ever. He was dinged for a third-inning homer by Albert Almora Jr. but allowed just three other hits and one walk in seven innings.

Since his return, he has made six starts. In the last four, he has allowed four runs total while striking out 25 and walking five in 24 innings.

"I feel normal," Bumgarner said. "I'm throwing the ball really well. I'll throw as many pitches as they'll let me. They've got to be smart about it, but I'm feeling good. It's the mindset of being healthy in arm strength and the mindset of making pitches again."

While the Cubs are in first place in the National League Central, the Giants are dead last in the NL West. Having Bumgarner back, however, levels the playing field.

Three times in his last four starts he has matched up with likely playoff teams, and the Los Angeles Dodgers, Diamondbacks and now the Cubs have struggled to do much against him.

The Giants, while 24 games under .500 at 46-70, have back-to-back series wins over the Diamondbacks and Cubs, two NL powers.

"It's no coincidence," the Giants' Hunter Pence said.

The right fielder drove in the game's final run with a homer in the eighth inning.

[to top of second column]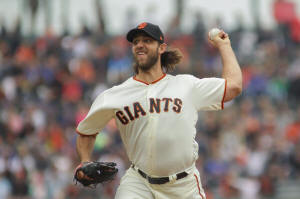 Giants starting pitcher Madison Bumgarner (40) throws a pitch during the first inning against the Chicago Cubs at AT&T Park. Mandatory Credit: Sergio Estrada-USA TODAY Sports
"Having him back is a big impact, not only in the games he starts but just his presence. His mentality seeps into everyone."

San Francisco scored first on an RBI single from Joe Panik in the second. Almora tied the score in the third by going deep, and the game sat there until Denard Span, Ryder Jones and Jarrett Parker backed up hits in the seventh.

"We scrapped, we scratched and clawed for runs in that seventh inning today," Giants manager Bruce Bochy said. "There were some balls that weren't hit hard, but they put them in play. It's good to get some wins, and get some wins against two pretty good ballclubs, Arizona and Chicago. It makes for a great flight heading to Washington."

The Cubs' flight to Phoenix, while much shorter, will be more difficult for the Central leaders to enjoy.

"Other guys have to say 'we have to pick up the slack,'" Maddon said of a future where Contreras might not be a factor. "I've seen it before when your best player at the moment goes down. Guys start to pick it up."

NOTES: Cubs RF Ben Zobrist opened the game with a single. He is now 7-for-15 lifetime against Giants LHP Madison Bumgarner. ... In a bit of irony, Willson Contreras, who is normally the Cubs' catcher, was at first base, the idea being to give his legs a bit of a rest. ... RHP Mark Melancon (right pronator strain) will travel with the Giants to Washington and it's possible that he will be activated from the disabled list Friday. ... Giants OF Hunter Pence's homer was his second of the homestand. He hadn't hit a home run at AT&T Park all season before these two. ... The Cubs put RHP Koji Uehara on the disabled list with tightness in his neck. Justin Grimm was recalled from Triple-A Iowa. ... San Francisco RHP Johnny Cueto, still dealing with a blister, will travel with the team to Washington. The plan will be for him to do some light throwing over the weekend.
[© 2017 Thomson Reuters. All rights reserved.]
Copyright 2017 Reuters. All rights reserved. This material may not be published, broadcast, rewritten or redistributed.