Atlanta youth baseball player Alex Kindred competing in All American Baseball

Send a link to a friend Share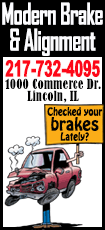 [August 10, 2017] ATLANTA - Alex Kindred of Atlanta is competing this week at the USSSA All American Baseball Games.

The USSSA All American Games are being held August 6-12 in Orlando, Florida at the ESPN Wide World of Sports Complex and other venues in the Orlando area. There are 8 regions within the United States. Two teams - American and National - from each region will compete to play in the Championship on Saturday, August 12, 2017.

Alex Kindred of Atlanta, Illinois is a member of the American 12U Team representing the Great Lakes Region.

"Never let anyone take your dream from you. Don't let anyone say your dream cannot be accomplished. Tell them about a short kid who was hanging from the rope when I was a little kid, dangling there, trying to stretch himself and hoping to become as tall as the other boys." - Ivan Rodriguez spoke these words recently in Cooperstown, New York at the Baseball Hall of Fame Induction Ceremony.

"But I got a cool nickname out of it, 'Pudge.' I can say I am a very tall 5 foot 9," joked the retired Major League Baseball catcher and now a member of the Baseball Hall of Fame. Rodriguez, who called himself the little kid from Puerto Rico with a big dream, is a prime example that physical size pales in comparison to the determination and hard work put forth by some young athletes.

Case in point, baseball player Alex Kindred of Atlanta, Illinois.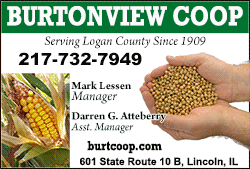 Kindred, an eighth grade student at Olympia Middle School, is representing the Great Lakes Region this week at the United States Specialty Sports Association (USSSA) All-American Baseball Games.

In addition to baseball, the 5' tall athlete, who is also an honor roll student, plays basketball and participates in track at Olympia Middle School.

Kindred is one of the youngest baseball players in his class due to a late birthday, and he's smaller in stature than his classmates. According to his father, Sean Kindred, "Alex's smaller size is not diminishing his baseball dreams. If anything, it's fueling his desire to reach his goals."

"Alex has a big heart, determination and a great work ethic," said his dad Sean.

By his own choice Alex spends hours each week putting in work on the field and in the batting cage.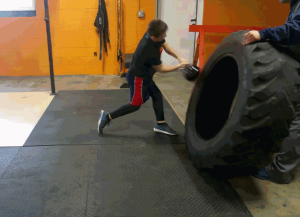 A great work ethnic demonstrated by Kindred.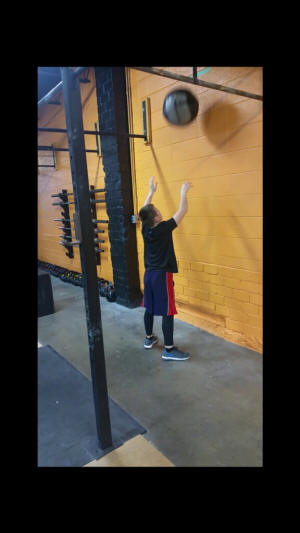 Kindred works on building upper body strength at Lincoln Barbell.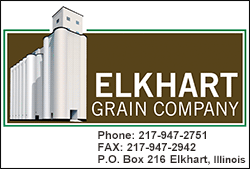 Sean says, "During the off-season this past year Alex wanted to get stronger to stay competitive. I researched strength training for young athletes and after speaking with Dane Whitted, owner of Lincoln Barbell, Alex began six months of strength and conditioning work. I credit Alex's strong work ethic and desire to play the game at the highest level he can as key factors in his success."

According to Sean, Alex began playing tee ball at age five and has played summer travel baseball with the Olympia Progressive Baseball Association (OPBA) for the past five years.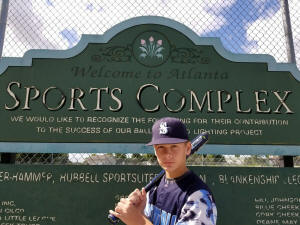 Kindred plays shortstop, catcher and pitcher for the Olympia Spartans.
Alex also plays on his school baseball team at Olympia Middle School. Last year Alex played on the eighth grade team that won the regional championship under coaches Ron Smith, Mark Finchum and Justin Lacefield.

An opportunity presents at the national level

This past summer Sean received an email from the USSSA detailing a Showcase tryout for the All-American games to be held in Orlando, Florida. Alex was eligible for a tryout with the Great Lakes Region, which comprises Illinois, Indiana, Kentucky, Michigan, Ohio and West Virginia. Alex attended the tryout in Chicago on Father's Day weekend since he had the weekend off from the summer baseball schedule.

As Sean explained, "I showed the email to Alex and he was very interested in going. Alex read that they would be evaluating players and he wanted to get an evaluation of where he was as a player after putting in all the work he had during the off-season and with his summer baseball team. We went to the tryout where players were evaluated on hitting, running, throwing and fielding. Additionally, pitchers and catchers were looked at. Players could only tryout at two positions and Alex chose shortstop and catcher."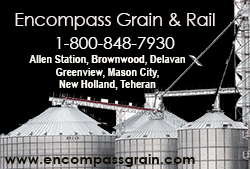 Regional tryouts

When Alex and his dad arrived at the Chicago tryouts, there was an estimated 200 plus players competing for spots in their respective age groups, many much taller than the young man from little Atlanta, Illinois.

"Some of the kids in the 12U group were nearly 6' tall," said Sean. "Alex said he was a little nervous. I told him to relax, that he had put in the work and was prepared for this. His mother and I wished him luck and stepped aside to let him learn to handle himself as a young man and player. It was a great learning experience and an opportunity for him to grow."

Kindred batted .375 this summer for the Spartans 12U traveling team.

Following the June 16th tryouts, Alex said, "I thought I did pretty good but I wasn't really sure." Next, the Olympia Spartan who had a batting average of .375 this summer along with an on-base percentage (OBP) of .475, had to wait a week to see if he had made the 12U Team.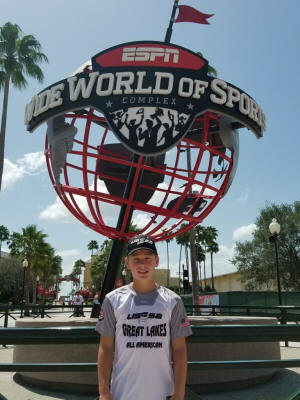 Alex Kindred in Florida on Sunday, August 6, 2017. The Atlanta ballplayer was chosen to represent the Great Lakes Region at the USSSA All American Games.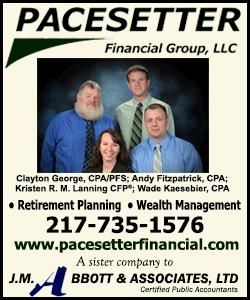 Making nationals

Sean said the selection show was aired online June 25th and indeed the young man heard his name called. "We had just completed the Lincoln Heat tournament that day and went home to watch the selection show," said Sean.

"Alex was very excited when he heard his name announced to the 14 player roster for the Great Lakes Region American Team. It was great to see that a kid from small town Atlanta, Illinois could compete with kids from six states and earn a spot on the All-American roster. It just goes to show that you don't have to be big to play the game of baseball, but you do have to play big. Hard work pays off," Sean said proudly.

"His mother and I just love to watch him play this game and we are very proud of him for the young man that he is on and off the field."

Josh Olsen, Alex's Head Coach this past summer on the Olympia Spartans OPBA 12U team, knows this young man very well on and off the field. Olsen is currently the Assistant Superintendent at Olympia and he was once a teacher and coached both basketball and baseball.

Olsen raved about Alex's baseball talent. "He is very quick. He is short, I would say, but he is very, very strong and he's got a very strong arm. He's very fast on the base paths."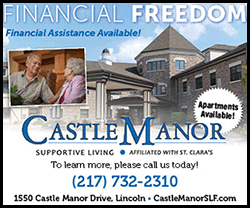 Kindred's fielding percentage was a phenomenal .930 on the season.

While Alex's batting average and OBP are equally impressive, his versatility is also a strong point, "Alex can play all nine positions if you need him to. I would say he's our number one pitcher. He's also our number one catcher and one of the top at all nine positions. He had more fielding chances than anybody on the team and yet, even with having more opportunities, he had the highest fielding percentage on the team with a fielding percentage of .930.

For the entire season he had nine errors. That's obviously playing pitcher, catcher, shortstop, second base...that's impressive...he played a lot."

Olsen noted that was just nine errors in almost 60 games played. "It's a ton of fielding opportunities."

Olsen continued talking about Alex, noting his character. "He is the nicest kid that you will ever meet. He is just very polite. He's pretty quiet, but you know he just comes to play hard and work hard and just gives 110 percent every minute that he's there."

A small, quiet kid who has earned a cool nickname, just like Ivan "Pudge" Rodriguez.

"The nickname that we kind of gave him is "Bulldog" and I mean that just summarizes it real well," said Olsen. "Like I said, he's kind of a shorter kid, but he's not a scrawny little kid. He's strong and probably had the best arm on the team. He just has that bulldog mentality. He comes in and he works very hard. He is always giving 110 percent and you can't ask for anymore out of him."

According to reports Olsen has received from Florida, "Bulldog" is doing just fine playing on the big diamonds at the ESPN Wide World of Sports Complex.

Coach Olsen said, "I did talk to Sean a little bit and he said Alex started both the first two games and played catcher and shortstop. So he's getting a lot of opportunities there. He's performed really well. He's getting a ton of practice and instruction against some of the top kids in the country, in addition to playing the tournament. It's a really cool opportunity for him. I'm really happy for him and I'm glad he got to take part in it."

Alex is glad to be a part of it, too and he is happy to be sharing the experience with family.

Headed south

Prior to the trip, about the anticipation of the experience of a lifetime, Alex said, "I guess I'm playing really good competition so I better be ready."

Alex gives a lot of credit to his dad for the role he has played in his career. "He has helped me out a lot," Alex said of his father. "He pitches to me a lot."
A dad, a son and a baseball being tossed through the air...it's a beautiful connection.

This week other family members are getting to see Alex's hard work pay off on the national level. Aside from mom Rhonda and dad Sean making the trip with Alex, two of his three sisters are also traveling with the family. Completing the family affair in Florida is a grandma and an aunt. Looks like Alex is surrounded by an incredible female support system in the stands.

Alex is appreciative of not just his family support system, but he is also thinking of his support system back home.

"I want to thank my coaches and I'm happy to represent the Great Lakes Region and Illinois. I am also proud to represent Olympia," said the young man, full of Spartan pride.

Idols

You cannot end a baseball story without emphasizing a boy's favorite team and player(s). In this case, Alex is a St. Louis Cardinal fan who lists Matt Carpenter as his favorite Redbird. Alex is also inspired by smaller players from other teams, such as Jose Altuve of the Houston Astros and Dustin Pedroia of the Boston Red Sox.

The latter two pro-players may be smaller in stature but they more than make up for it in hard work and hustle, just like Alex.

Congratulations, Alex! You make Central Illinois proud!
[Teena Lowery
Photos courtesy of Cleinmark Photography and Sean Kindred]