Red Sox stun Cardinals with Betts' walk-off double
Send a link to a friend Share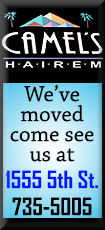 [August 17, 2017] BOSTON -- Mookie Betts is batting just .269 this season, well down from the .318 he hit in 2016.

But his 2017 season with runners in scoring position tells an entirely different story.

"I think it's his focus in those moments and none bigger than here tonight," Boston manager John Farrell said after Betts ripped a two-out, two-run double in the ninth inning to give the Red Sox a dramatic 5-4 interleague victory over the St. Louis Cardinals on Wednesday night.

The Red Sox honored the 50th anniversary of the 1967 Impossible Dream team that came up a game short with a loss to the Cardinals the World Series -- and then went out and pulled off a dream win.

Thanks to Betts.

In the third inning, he delivered a sacrifice fly as Boston cut a four-run deficit in half. Then, with runners on first and second and two outs in the ninth, he raised his batting average with runners in scoring position to .390 (39-for-100) with the winning hit.

He is 18-for-47 (.382) with runners in scoring position and two outs.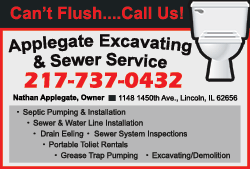 "I was just going up and trying to put a good swing on a good pitch and that's what I was able to do," Betts said after hitting a 3-2 pitch from Boston native John Brebbia.

The hit really shouldn't have been a winner and should have sent the game into extra innings. Jackie Bradley Jr. was trying to score from first and the relay throw home from shortstop Paul DeJong had him at the plate. But Yadier Molina couldn't hold the throw as Bradley clumsily got the plate on his second try.

"I was watching it unfold," Betts said of the play at the plate. "It was a good throw there. I thought they had him. He didn't catch it so we won."

The win, which completed a four-game Boston sweep of the Cardinals this season (two games this week and two in May), lifted the Red Sox to 3-48 this season when trailing after eight innings and kept them 4 1/2 games ahead of the New York Yankees in the American League East.

The Red Sox have won 12 of their past 14 games.

The Cardinals have lost three straight after an eight-game winning streak and fell 2 1/2 games behind the Chicago Cubs in the National League Central.

Cardinals manager Mike Matheny, a player when the 2004 team lost the World Series to Boston and the manager when the same thing happened in 2013, was asked after the game how many times he thought this one was his to take home.

"Enough," he said "It's frustrating."

And he wasn't even around for the finish.

Trevor Rosenthal started the inning with a 4-2 lead and gave up a leadoff homer to Xander Bogaerts, his first home run since July 5, before walking Mitch Moreland on a 3-2 pitch that bounced to the backstop. Zach Duke (0-1) came on and struck out pinch-hitter Brock Holt on a 3-2 pitch after falling behind 3-0, then went 3-0 on Bradley before walking him at 3-2.

[to top of second column]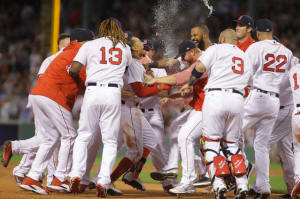 Red Sox right fielder Mookie Betts (50) celebrates his game winning hit with teammates against the St. Louis Cardinals in the ninth inning at Fenway Park. Mandatory Credit: David Butler II-USA TODAY Sports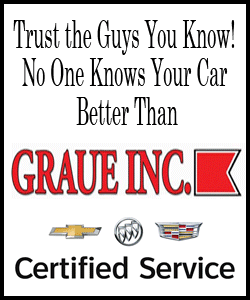 Brebbia entered, and with the count 0-2 on Eduardo Nunez, the pitcher held the set too long and plate umpire Chris Segal called time. That got Molina upset, and Matheny came out. Matheny, still fuming over a check-swing call earlier in the inning, was ejected by Segal.
"He said he needed timeout," Farrell said of the umpire. "The fact that he was kind of going at it with our catcher, you hate to see it at that particular point of the game.

"But a lot of barking going on all game long, the strike zone, not getting a call on a check swing in a big situation, just trying to get guys to do the job in big situations. And a lot of frustration at the end."

Nunez fouled out before Betts delivered against Brebbia, who grew up a Red Sox fan.

Boston closer Craig Kimbrel (5-0), who hadn't pitched since Sunday, threw a perfect ninth inning for the win.

St. Louis starter Lance Lynn allowed two runs (one earned) in six innings, but his throwing error delivered a run. He hasn't lost since July 4.

The Cardinals collected five hits in scoring all four of their runs in the second inning against starter Eduardo Rodriguez, who is 0-1 with a 4.78 ERA in six starts since coming off the disabled list and hasn't won since May 26.

Kolton Wong had three hits, an RBI and a run for the Cardinals.

The four-run second inning was wild, with Bradley twice trying to nail a runner trying to score from third base on a single. He was successful the second time, throwing out Matt Carpenter.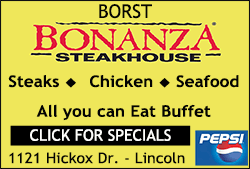 NOTES: Carl Yastrzemski, Jim Lonborg, Ken Harrelson, Rico Petrocelli and Reggie Smith headed the list of members of the 1967 Red Sox "Impossible Dream" team honored prior to the game. ... The Red Sox will pitch LHPs Drew Pomeranz and Chris Sale on Friday and Saturday against the New York Yankees but still hadn't decided between RHPs Rick Porcello (on regular rest) and Doug Fister for Sunday. ... Boston will honor broadcaster Jerry Remy, battling cancer for the fifth time, and his 30 years in the TV booth on Sunday. He will throw out the first pitch. ... Boston LHP David Price (elbow) delayed a throwing session a day and will throw Thursday from flat ground. ... The Cardinals visit the Pirates this weekend for three games, the first two in Pittsburgh and the third, on Sunday night, in a small minor league stadium in Williamsport, Pa.
[© 2017 Thomson Reuters. All rights reserved.]
Copyright 2017 Reuters. All rights reserved. This material may not be published, broadcast, rewritten or redistributed.