Come out on Friday September 1st from 5 p.m. to 10 p.m. and again on Saturday the 2nd from 8 a.m. to 10 p.m.
The community is planning live music, special events for young and old, lots of food opportunities, historic tours around town, and a special treat - tours of the Elkhart Cemetery Chapel, and music performed on the chapels antique church organ.
There will also be a painting of a historic mural wall on Saturday along with a BBQ contest and a Homemade Pie contest both with cash prizes awarded.
Complete schedule:
Friday evening kicks off the celebration featuring
Original art for sale at The Country Bumpkin Shop, Bird Song Books and Vintage and Horsefeathers

Live music performed on acoustic guitars, classic strings and a jazz combo

Food available at The Wild Hare Café from 5 to 8pm
Saturday is a full day of activities for all ages and interests

8 a.m. - Biscuits and Gravy breakfast served at the Fellowship Community Ctr.( old school- FCC)

9 a.m. - Swap or Shop Clothing Exchange in FCC
Live music performances throughout the Day

All day display of Antique Tractors and Engines, Motorcycles and Bicycles

All day display of Vintage Classic Cars

Street Food available all day outside The Little Foxes Shop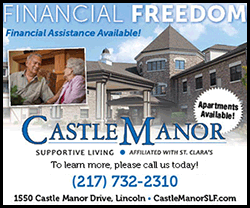 Blue Plate Specials served at The Wild Hare from 11 to 2pm

Slot Car Racing at Route 66 Model Raceway-- Special Races for kids and Seniors

All day painting of a Historic Wall Mural of Elkhart and Route 66

All day Exhibition of friendly farm animals and Children's Petting Zoo

Essential Oils Classes

Story Telling by Mike Anderson at the Library

Sidewalk Chalk Drawing and Make and Take Projects for the kids

Historic Tours by wagon with commentary by Bob McCue

Cemetery Chapel Tours and Music performed on the antique church organ

BBQ contest with prize money awarded

Best Homemade Pie Baking Contest with cash prizes awarded

Grand Parade featuring a salute to our Senior Citizens

Talent Show with cash prizes awarded

Street Dance music supplied by Hi Tek Redneck
Festival Maps are available from all shops and visitors information table

For more information and entry forms go to website www.elkharthistorical society.org
[J Rob Wilson]