White House has prepared pardon documents for ex-Arizona sheriff Arpaio: CNN
Send a link to a friend Share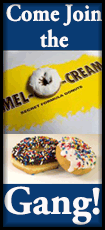 [August 24, 2017] By David Schwartz

PHOENIX (Reuters) - The White House has prepared paperwork for U.S. President Donald Trump to pardon Joe Arpaio, the controversial former Arizona sheriff convicted last month of criminal contempt in a racial profiling case, CNN reported on Wednesday.

White House officials declined to comment, but an administration official told CNN that talking points to be used after Arpaio is pardoned have also been prepared.

Trump hinted during an appearance in Phoenix on Tuesday he would issue a pardon for Arpaio, who was sheriff of Maricopa County, where Phoenix is located, for 24 years before losing a re-election bid last year.

"I'll make a prediction," Trump said at a rally in Phoenix. "I think he's going to be just fine, OK? But I won't do it tonight because I don't want to cause any controversy. But Sheriff Joe can feel good."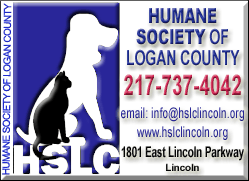 Arpaio, who styled himself as "America's toughest sheriff" for his no-nonsense treatment of jail inmates and crackdown on undocumented immigrants, faces a maximum penalty of six months in jail and a fine when sentenced on the federal misdemeanor offense on Oct. 5.

Arpaio, 85, told Reuters on Wednesday he had not had any contact with Trump or his staff about a pardon.

"I am very humbled about what he said about me and what he was going to do for me," Arpaio said in a telephone interview.

Later on Fox New Network's "Hannity" show, Arpaio said his case was politically motivated and pledged to go public and "talk about the abuse of the political and justice system."

"People have to know the true story," he said. "If they can go after me, they can go after anyone in this country," he said.

Arpaio was an early supporter of Trump's presidential campaign and led an investigation in 2011 of false claims that President Barack Obama was not born in the United States. Trump had also promoted that false "birther" position before abandoning it last year.

[to top of second column]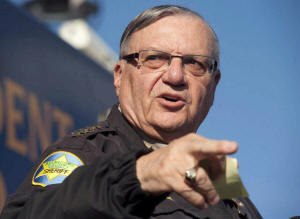 Maricopa County Sheriff Joe Arpaio announces newly launched program aimed at providing security around schools in Anthem, Arizona, U.S. January 9, 2013. REUTERS/Laura Segall/File Photo/File Photo
A judge found Arpaio guilty of contempt last month for intentionally defying a 2011 court order that barred his officers from stopping Latino motorists solely on suspicion that they were in the United States illegally.

The judge in the underlying lawsuit, brought by the American Civil Liberties Union (ACLU) and others in 2007, held that such traffic stops were a violation of the motorists' constitutional rights.

CNN reported the talking points to be used after a pardon is issued included Arpaio's 50 years of service in the military, the U.S. Drug Enforcement Administration and as sheriff, and that it was inappropriate to imprison him for "enforcing the law" and "working to keep people safe."

ACLU deputy legal director Cecillia Wang said in an email a pardon would be "a presidential endorsement of racism."

"Arpaio was convicted by a federal court because he deliberately violated a federal court order that was simple and clear in prohibiting illegal detentions of Latinos," she said.

(Additional reporting by James Oliphant in Washington; Editing by Bill Trott, Leslie Adler and Paul Tait)
[© 2017 Thomson Reuters. All rights reserved.]
Copyright 2017 Reuters. All rights reserved. This material may not be published, broadcast, rewritten or redistributed.