'Is Germany tired of Merkel?' asks mass-selling newspaper Bild
Send a link to a friend Share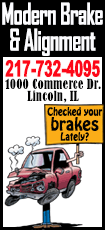 [February 07, 2017] BERLIN (Reuters) - Germany's mass-selling newspaper Bild openly questioned whether voters have had enough of Chancellor Angela Merkel on Tuesday after a poll showed the Social Democrats (SPD) pulling ahead of her conservatives.

"Is Germany tired of Merkel?" Bild asked in a headline after a survey for the newspaper by pollster INSA put the center-left SPD on 31 percent and Merkel's conservative bloc on 30 percent.

The SPD, junior partner in Merkel's ruling "grand coalition", has been trailing the conservative CDU/CSU bloc - known as the "Union" - for years in opinion polls. It last won an election under Gerhard Schroeder in 2002.

But the SPD has been re-energised by its appointment of Martin Schulz, a former European Parliament president who came home to enter German politics, as its new leader last week.

He replaced Sigmar Gabriel, who said he was standing aside to boost the party's chances.
Schulz has vowed to unseat Merkel with a campaign aimed at overcoming "deep divisions" that he says have fueled populism in Germany in recent years.

"A close race between the SPD and the Union is in any case good for German democracy," Bild said in an editorial, adding that the SPD's revival made another grand coalition less likely.

Unlike other SPD leaders, Schulz has had no role in Merkel's grand coalitions - governments of the two largest parties because no other coalition was mathematically or politically possible - and can more readily critique her record.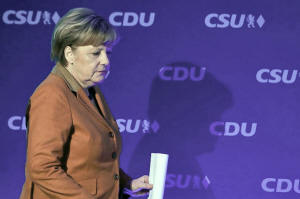 Angela Merkel, German Chancellor and leader of the conservative Christian Democratic Union party CDU casts a shadow as she arrives for a news conference with Horst Seehofer, federal state premier of Bavaria and chairman of the CDU's Bavarian sister party Christian Social Union (CSU) following their meeting to end their differences on the refugee policy in Munich, southern Germany, February 6, 2017. REUTERS/Michael Dalder
Merkel, in office since 2005, currently heads her second grand coalition with the SPD. Between them, she led a coalition with the smaller Free Democratic Party (FDP) from 2009 to 2013.

The SPD has held exploratory talks with the environmentalist Greens and the far-left Linke party about forming a left-leaning coalition government after the election.

(Writing by Paul Carrel; Editing by Tom Heneghan)
[© 2017 Thomson Reuters. All rights reserved.]
Copyright 2017 Reuters. All rights reserved. This material may not be published, broadcast, rewritten or redistributed.