Children learn MVP in their health

Send a link to a friend Share
[February 20, 2017] LINCOLN - Area fifth grade students learned about healthy living at their own Wellness Expo at the Lincoln Park District on Friday. Hosted by the Lincoln Park District in conjunction with the Logan County Department of Health and the Healthy Communities Partnership, the students heard many strategies for healthy living.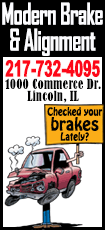 This year's Children's Expo theme "Be A Healthy MVP" to motivate kids was inspired by the Coordinated Approach to Child Health (CATCH) program.

M - Move and stay active
V – Value healthy eating
P – Practice healthy habits

CATCH has been initiated into schools by Healthy Communities Partnership to influence the messaging children receive in physical education, the lunchroom, the classroom and the home to shape their choices when it comes to health.

As students visited the various exhibits at the expo, there were lessons on eating healthy foods, understanding the dangers of smoking and taking drugs, staying active, staying safe, practicing healthy habits, and adapting technology. The students could also do fitness contests such as an obstacle course of the heart's ventricles and aorta. The day provided both fun and learning for the students and presenters.
There were also lessons on:

- The dangers of vaping, smokeless tobacco, e-cigarettes, and hookahs.

- How assistive technology helps people improve their capabilities.

- Students listened to their heartbeats and learning how the heart works. An obstacle course depicted the heart's chambers and mitral valve.

- Lessons on what happens when someone has an asthma attack.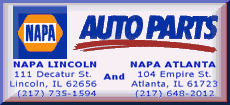 - Students learn healthy habits at ALMH rehab station.

- Organic food from PrairiErth Farms.

- Wearing a helmet for bike safety.

- Elroy Elk helps taught about the dangers of drugs.

- Food safety tips to avoid illness.

[to top of second column]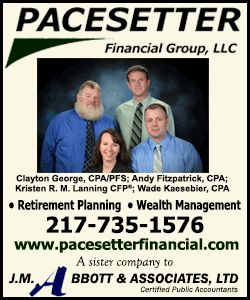 - How to practice good dental care at Sugar Creek Orthodontics station.

- Fresh produce at ALMH market station.

- The CATCH program, which teaches kids healthy habits.

- Students learned about balance at U of I Extension station and what visual impairment feels like.
- Why additives and high fructose corn syrup are not healthy at Wildtree station.

- Self-esteem at Tazwood Center for Wellness.

- A Lincoln Police Officer taught about hand eye coordination.

- Bill Post with the American Cancer Society demonstrated how smoking affects the lungs.

- Several stations taught students about healthy eating habits

- An ambulance was opened to learn what is inside.

Students learned about staying healthy from SIU Medicine Simmons Cancer Institute and many other stations.

[Angela Reiners]