Winter storm socks U.S. New England region, snaps power lines
Send a link to a friend Share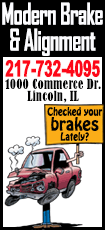 [January 02, 2017] By Brendan O'Brien

(Reuters) - A winter storm lashed New England with heavy snow and high winds on Friday, cutting power lines as some areas were blanketed with more than 24 inches (60 cm) of snow, the U.S. National Weather Service said.

Winter storm warnings and advisories issued for areas stretching from northern New York through most of Maine were lifted later on Friday, and electric utilities scrambled to restore power to tens of thousands of people.

"This is the first strong nor'easter New England has seen this season," said Todd Foisy, a meteorologist with the National Weather Service in Caribou, Maine. "The hardest hit was central Maine and areas running southwest."

Much of Maine received double-digit snowfall, the National Weather Service said, with Oxford County, in the southern part of the state, reporting 27 inches (69 cms) in some locations.
In New Hampshire, snowfall was less, but the National Weather Service reported areas receiving more than a foot of snow in Carroll County, on the border with Maine.

Central Maine Power said 91,000 customers were without power as of Friday morning. That number fell to about 43,000 early in the evening.

Nearly 15,000 customers of Emera Maine were without power on Friday morning, according to an outage list on the power company's website. By evening, the number fell to about 4,500.

A winter storm warning was in place for parts of southwestern Pennsylvania on Friday evening, the service said.

Some outdoor enthusiasts were excited about the snow.

[to top of second column]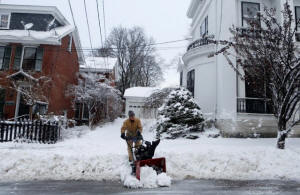 Glen Porter maneuvers his snowblower while clearing his driveway in Bangor, Maine, U.S. December 30, 2016. REUTERS/Ashley Conti
"WOW! What a way to start the season!" the Maine Snowmobile Association, which described the storm as a "whopper," said on Facebook.

The association cautioned against rushing to trails that had been inundated with snow and not yet groomed for riding.

"Like all of life's great pleasures, perfect snowmobile trails take a little bit of time," the association said.

(Reporting by Brendan O'Brien in Milwaukee. Additional reporting by Timothy McLaughlin in Chicago and Jon Herskovitz in Austin, Texas; Editing by Catherine Evans and Steve Orlofsky)
[© 2017 Thomson Reuters. All rights reserved.]
Copyright 2017 Reuters. All rights reserved. This material may not be published, broadcast, rewritten or redistributed.