Visitation: 2 p.m. Thursday January 5, 2017 at Fricke-Calvert-Schrader Funeral Home
Service: 3 p.m. Thursday at the funeral home
Funeral home: Fricke-Calvert-Schrader, Lincoln
Obituary
Virgil F. Douglas , 80, passed away at 10;32 a.m. at his home surrounded by his loving family on January 1, 2017.

Virgil was born on December 17, 1936 in Lincoln, son of Ross and Zora (Pharis) Douglas. He married Geneva Foley on December 6, 1958 in Joliet. She survives him.

Also surviving Virgil are his children: Dwayne (Ruby) Foley of Lincoln, Victor Douglas of Arlington, TX, and Sherry (John) Schonauer of Lincoln, six grandchildren; three great-grandchildren, with one great grandchildren expected in January; many loving nieces and nephews that were with him every step of the way. He was preceded in death by his parents, two brothers, two sisters, and one grandson.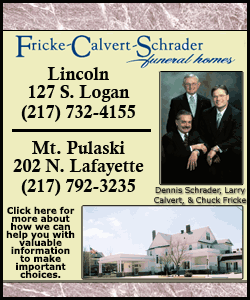 Virgil served in the United States Army from 1957-1959. He worked at Stetson China Factory in Lincoln for 6 years before they closed; he then went on to work at Lehn and Fink for 30 years as a line mechanic. He loved to hunt for mushrooms, shoot pool, gamble, sit at the park by the water, flying in hot air balloons, hunting for minerals and rocks, and loved watching the St. Louis Cardinals play.

A celebration of life will be held at 3:00 p.m. Thursday January 5, 2017 at Fricke-Calvert-Schrader Funeral Home in Lincoln, with Darren Palmer officiating. Visitation will be one hour prior to the service also at the funeral home.
Memorials may be made in Virgilís name to the Purple Heart Memorial of Springfield, Salvation Army, Shrinerís Hospital in St. Louis, MO, or Memorial Home Hospice.
Click here to send a note of condolence to the family of Virgil F. Douglas