Tarasenko, Blues tip Blackhawks in Winter Classic
Send a link to a friend Share
[January 03, 2017] ST. LOUIS -- Vladimir Tarasenko loves the big stage, and he showed why again on Monday in the Winter Classic.

Tarasenko scored twice in a span of 1:53 in the third period to lead the St. Louis Blues to a 4-1 win over the Chicago Blackhawks in the Blues' first outdoor game in their history at Busch Stadium.

Tarasenko's two goals came after he had been denied on two great scoring chances earlier in the period, being stopped on a breakaway by Chicago goalie Corey Crawford and then hitting the post when the Blues were on a power play, meaning he could have scored four goals in the period.

The two goals increased Tarasenko's total to 18 on the season. He has also scored 14 goals in his last 19 games against the Blackhawks.

"I don' think you can rank this performance, it's just different, Tarasenko said. "It's a different experience, maybe once in a lifetime. I'm just really happy we won the game, that's the best feeling."

For the rest of the Blues, knowing Tarasenko is on their team gives them a great feeling.

"Anytime you've got Vladi on the team, it usually helps," said defenseman Alex Pietrangelo.

The game was tied at 1 when Tarasenko scored his first goal at 12:05 of the third period, off a lucky bounce. His backhanded centering pass deflected off the skate of Chicago defenseman Niklas Hjalmarsson and into the net.
"I could have played it differently but it was a tough bounce," Hjalmarsson said. "He (Tarasenko) is one of those few guys in the league that has a shot that's more than above average. He doesn't have to wind up to get a big shot away so he can shoot it from anywhere and that's what makes him so dangerous."

Tarasenko then added his second goal of the game at 13:58 to make it a 3-1 lead before Alexander Steen scored the final goal into an empty net.

Patrik Berglund had tied the game for the Blues with his goal in the second period after the Blackhawks got their only goal of the game just 62 seconds into the game, from defenseman Michal Kempny.

With the game tied, Blues coach Ken Hitchcock was not surprised it was Tarasenko who became the star of the game. Neither were his teammates.

"He's a hungry offensive player," Hitchcock said. "He's a guy that sniffs out weaknesses or he sniffs out coverage issues and he jumps on it. And when he's engaged like he was today and like he's been for the most part of this year, he's dangerous, because he's one shift away from breaking the thing wide open. He usually doesn't miss on those breakaways -- and I thought for sure that was going to be the one."

[to top of second column]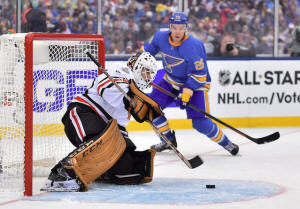 Blackhawks goalie Corey Crawford (50) makes a save as St. Louis Blues center Paul Stastny (26) looks on during the second period in the 2016 Winter Classic ice hockey game at Busch Stadium. Mandatory Credit: Jasen Vinlove-USA TODAY Sports
Added defenseman Kevin Shattenkirk, "Big time players, you ask them to come through in big games. He's a guy who shoots a million pucks a game but the one goes in off a skate for him, and that's hockey right there. We knew if we put pucks at the goal crease we were going to get a bounce. He's a guy who only needs one shot. He proved that today."

The loss left the Blackhawks 1-4 in outdoor games and dropped them to 1-4-1 in their last six games, which was more of a concern for coach Joel Quenneville.

"We're not getting production that we could use and one goal in the last couple of games," Qunneville said. "The production's been down a little bit, whether we get it from our power play or top guys, I think we are a better team offensively when we get some help from our defensemen, whether it's off the rush or in zone or on the point and in the power play, that can really help us as well."

The game began with a temperature of 46 degrees and the first half was played in a steady but light rain. The game drew a crowd of 46.556 fans.

"It was the coolest thing I'ev ever been a part of," Pietrangelo said.

NOTES: The Blackhawks expect C Marcus Kruger to miss about three weeks with an upper-body injury suffered in Friday night's game. He was placed on injured reserve Sunday. ... RW Marian Hossa, who has not played since Dec. 20 because of an upper-body injury, could be back for the Blackhawks' next game, at home Thursday night against Buffalo. ... LW Jaden Schwartz missed Blues practice on Sunday because of illness but was well enough to play on Monday. ... The Blues and Blackhawks have only one game remaining in their regular season series, on Feb. 26 in Chicago. ... The Blues will host the Carolina Hurricanes on Thursday night in their next game.
[© 2017 Thomson Reuters. All rights reserved.]
Copyright 2017 Reuters. All rights reserved. This material may not be published, broadcast, rewritten or redistributed.