Baertschi's two goals carry Canucks to fourth straight win
Send a link to a friend Share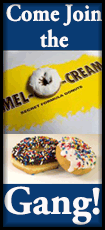 [January 03, 2017] VANCOUVER, British Columbia -- Being a healthy scratch 10 games ago created an attitude adjustment for Sven Baertschi.

Baertschi scored his second goal on a power play late in the third period to give the Vancouver Canucks a 3-2 win over the Colorado Avalanche on Monday night.

It was Vancouver's fourth consecutive win, matching their longest winning streak of the season.

Baertschi was left out of the lineup for a 3-0 loss to Washington on Dec. 11. Since his return, he has collected 11 points, including six goals, in 10 games.

"Coming back after that I had a bit of attitude in my game because no one wants to sit out," said Baertschi, who has 10 goals and 22 points in 36 games. "I felt like I was letting the team down there.

"I came back and started playing really well, so I guess it was good for me."

Daniel Sedin, who had his 600th NHL assist on the winning goal, said the 24-year-old from Bern, Switzerland, is playing with renewed confidence.

"He's getting the bounces lately," Sedin said. "Then all of a sudden you are relaxing and making plays. You're seeing all kinds of possibilities out there.

"When things don't go your way, you get a little hesitant and stop skating. For him lately, it's been fun to watch. He's very key for our team."
The winning goal came with the Canucks on a power play after Colorado's Cody Goloubef was called for delay of game after shooting the puck over the glass.

Daniel Sedin took a shot that Colorado goaltender Calvin Pickard stopped. Baertschi was there to put in the rebound.

"I'm getting lots of shots and I get to feel the puck a lot, which is good," said Baertschi, who came to Vancouver in a 2015 trade from Calgary. "For me, it's just understanding where to go and finding the open ice."

Bo Horvat also scored for the Canucks (18-18-3). Henrik Sedin had two assists.

Horvat, who leads the Canucks with 11 goals, said it's important other players are stepping forward to help in the scoring.

"Hank (Henrik) and Danny (Sedin) put so much pressure on themselves to carry this team on and off the ice," Horvat said. "To have secondary scoring will take pressure off them."

Vancouver climbed to .500 for the first time since Oct. 29. The Canucks, who are 6-2-1 in their last nine, are unbeaten since the Christmas break.

It's the first time the Canucks have won four straight games since starting the season 4-0-0.

"We talked about each guy being just five percent better," Daniel Sedin said. "That's all it takes for us to be a good team in this league.

"When we take that five percent off, I think we are an average team. That's been our mindset every game to be there for each other and really buy into our system and for our team. It's great to see."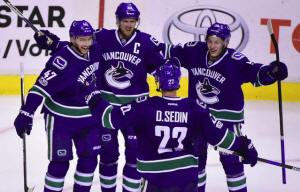 Canucks forward Sven Baertschi (47) celebrates his goal against Colorado Avalanche goaltender Calvin Pickard (31) (not pictured) with forward Henrik Sedin (33) and forward Daniel Sedin (22) during the third period at Rogers Arena. The Vancouver Canucks won 3-2. Mandatory Credit: Anne-Marie Sorvin-USA TODAY Sports
Mikko Rantanen, on the power play, and Tyson Barrie scored the Avalanche, who lost their fourth straight. The Avs (12-24-1) have one win in their last 10 games (1-9-0).

Barrie's goal tied the score at 2 midway through the third period.

Pickard said the late penalty was costly.

"That's kind of been the story lately," said Pickard, who had 21 saves. "We were actually playing good in the third there. We tied it up, then we kind of shot ourselves in the foot again."

Colorado coach Jared Bednar said eight to 10 plays turned the game against his team.

"A couple were needless penalties ... a handful of turnovers, and it ends up costing us a hockey game," he said. "Some of the penalties we're taking, it's getting repetitive, but that's what is biting us every night."

Vancouver's Ryan Miller made 24 saves to become the 21th goaltender to win 350 games. The only other U.S-born goalies with more wins are John Vanbiesbrouck (374) and Tom Barrasso (369).

"It feels pretty good," Miller said. "You play a lot of hockey to reach that point.

"It's fun to do it here at home."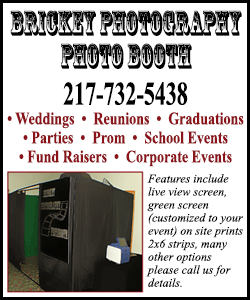 NOTES: RW Alex Burrows missed the game with a scratched eye suffered in Vancouver's 3-2 win over Edmonton on Dec. 31. He still played almost 15 minutes in that game. ... RW Anton Rodin took his place on a line with LW Sven Baertschi and C Bo Horvat. ... D Andrey Pedan has been reassigned to the AHL Utica Comets. ... D Alex Biega was a healthy scratch. ... Vancouver's homestand continues Wednesday against Arizona. ... Colorado C Matt Duchene started on a line between RW Jarome Iginla and LW Mikko Rantanen. ... C Nathan MacKinnon started between RW Rene Bourgue and LW Gabriel Landeskog. ... G Semyon Varlamov (groin) skated on his own Sunday but did not make the two-game road trip. ... Healthy scratches were D Eric Gelinas and LW Andreas Martinsen. ... C Joe Colborne and D Cody Goloubef returned to the lineup after being scratches the last two games. ... The Avalanche play in Edmonton against the Oilers on Wednesday.
[© 2017 Thomson Reuters. All rights reserved.]
Copyright 2017 Reuters. All rights reserved. This material may not be published, broadcast, rewritten or redistributed.